This £2.50 body oil doubles as an insect repellent for your family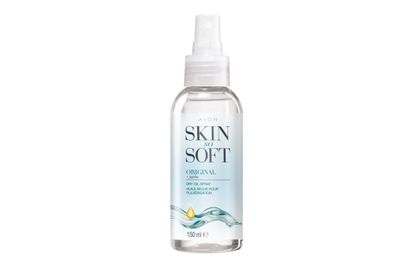 No one wants mosquito bites on holiday, and this little bottle makes a luxurious change to DEET sprays.

When you go on holiday most people have one of two choices. You either let your arms and legs erupt in swollen mozzie bites and spend the whole trip scratching at your irritated skin, or you drown yourself in a mosquito repellent DEET spray that usually smells so bad it's almost tempting to just deal with the bites.
Well, what if we told you there was a way you wouldn't have to experience either?
Turns out cosmetics brand Avon have one product in particular that helps ward off the bugs.
Though it hasn't been medically certified, Avon's Skin So Soft Dry Oil spray acts as an insect repellent for many users, while also nourishing their skin - and fans have even gone so far as to say that it's better than official DEET repellents.
This is because the spray contains citronella, a well-known bug deterrent that doubles as an antibacterial oil and helps reduce inflammation, just in case any bugs do get to you. And the smell is far less offensive than many DEET offerings out there.
These repellent benefits and the £2.50 price tag have lead to the spray becoming Avon's number one-selling product, so don't dwell if you want to get your hands on it.
Rumour has it that even the Royal Marines stock up on it to keep critters at bay, and people have been raving about it on Twitter.
And, it's the ideal way to avoid the sticky, tacky skin you get from usual insect repellents. Let the kids' ice creams and soft drinks do that instead.
All we know is, when we're hitting the evening cocktails on the beach, we'd definitely take the smell of jojoba over normal repellent - the chemical smell of DEET doesn't quite have the same allure.
Plus your skin will be softer than ever. That's a win in our eyes!
Aleesha Badkar is a lifestyle writer who specialises in health, beauty - and the royals. After completing her MA in Magazine Journalism at the City, the University of London in 2017, she interned at Women's Health, Stylist, and Harper's Bazaar, creating features and news pieces on health, beauty, and fitness, wellbeing, and food. She loves to practice what she preaches in her everyday life with copious amounts of herbal tea, Pilates, and hyaluronic acid.