The real life jobs of Gogglebox stars - what they do when the cameras are OFF!
Have you ever wondered what the Gogglebox cast get up to when they're not watching TV and being hilarious?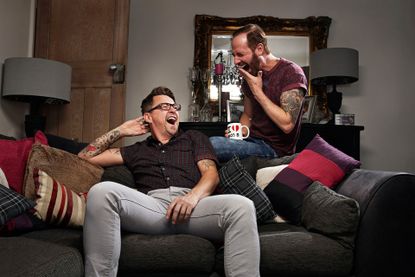 Since it hit our screens in 2013, Gogglebox has been a firm TV favourite, winning awards and allowing us to fulfil our curiousity of how other families watch the box.
We've become fully invested in all of the Gogglebox families, from the drunken hilarity of Steph and Dom to the observant one liners from George Gilby, but one thing we hadn't wondered about before was what they do when the cameras aren't rolling. After all, the cast only earn a reported £15 per evening per family member, so they must make a living somehow!
We've done some digging on the Gogglebox cast's careers, hobbies, and extra family members who hide away from the small screen - and let us tell you, there's some surprises along the way...
The Siddiquis
The Siddiqui boys are loved for their accurate yet funny commentaries on everything from BBC4 documentaries to reality TV. Dad Sid (or Mohammed) is originally from Pakistan, and moved to Derby when he was 16. He was an engineer for many years but now works in the healthcare industry. He and his wife have been together for 37 years, and have two daughters as well as the three sons we see on-screen - and you may have spotted some grandchildren in certain episodes too...
Umar, an IT technician and Baasit, an IT teacher, appear with their dad most often, but sometimes their other son Raza pops in too! Umar is also quite the electronic musician, and you can check out his beats on Soundcloud (opens in new tab).
Baasit is married with a baby daughter, but his wife, sisters and mum are never seen on the show as they 'don't like to be TV'. That leaves the boys to run the show solo, something we're sure they don't mind doing at all!
Best quote: 'It's called Britain's Got Talent, not Britain's Got Talent and Emotional Issues.' - Raza
Linda, Pete and George
Our hearts broke when George's participation in Celebrity Big Brother meant that they were axed from a couple of Gogglebox seasons, but thankfully, this family has been back and better than ever since season 7.
Mum Linda is a carer, and stepdad Pete is an electrician like George, who recently became a dad! He and girlfriend Gemma, a deputy head teacher, had their daughter Amelie in June (opens in new tab). Linda and Pete both grew up in the East End of London, and have been married for 17 years.
Best quote: 'Aw, how did us three idiots win that?' - Linda when Gogglebox won a BAFTA
The Moffatts
Daughter Scarlett is definitely the chattiest member of this clan, and we can't get enough of her hilarious commentary! What you may not realise it that Gogglebox wasn't her TV debut, though - she was previously on MTV'S Beauty School Cop Outs, and then later became a disability advisor for students. She can now be heard on Capital Radio as a presenter, and has recently released her first book, Scarlett Says.
Mum Betty works at Burton, and dad Mark is a welder who makes JCBs. Nine-year-old Ava is also part of the family, and has started appearing in recent episodes.
Before Ava joined the show, Scarlett told Now, 'she'd 100% outshine me if she joined. She's sarcastic, dead funny and proper cute. It wouldn't be good for my street cred to be losing arguments with her' - and now we've met Ava on camera, we can't disagree!
Best quote: 'He's my twin, everyone says I look like him. I have the same teeth as him.' - Scarlett during Alan Carr: Chatty Man
The Michaels
Their back-and-forths are hilarious, which is often the case with teenagers in the mix! Mum and dad Carolyne and Andy are both retired, with Andy previously being a hotelier. Andy ran for the local UKIP candidacy during the General Election, but didn't get voted in so the family were allowed to return to the show last year.
Louis studies at the University of Chester, where older sister Alex got her Masters in Computer Science. Eldest sister Katie hasn't always been on camera, as she was travelling in Australia, but now she's home she sometimes fills in for Alex when she's not available - they look so similar it's tricky to tell who's who! Pascal, the oldest brother in the family, hasn't appeared on the show, as he's busy studying Neuroscience at Aberdeen.
Best quote: 'It's so weird that Mum has no Greek in her but all the rest of us [are Greek]! - Alex 'Oh yeah... well I have had some Greek in me.' - Carolyne Alex's and Louis' mouths drop open.
Leon and June
The sweetest couple on the show, if you ask us! Leon and June have been married for nearly 60 years, and both were teachers before retiring. They've lived in their cosy house ever since they got married, and have two daughters and three grandchildren.
June loves swimming, and Leon plays bridge, but they both like to spend their time with each other relaxing in front of the TV and telling each other off!
Best quote: 'Look at her she's all wrinkly, I wouldn't fancy sleeping with her.' - Leon on Mary Berry
'I bet she wouldn't fancy sleeping with you.' - June
Chris and Stephen
The pair were a couple during the first season of the show, but they eventually decided that they worked better as friends. Chris is engaged, but thankfully his fiancé Tony still lets Stephen come to theirs for their weekly Gogglebox sessions. Both Chris and Stephen are hairdressers, which explains their frequent hairstyle changes!
Best quote: 'How many people do you think have re-enacted this on the cross-channel ferry from Dover to Calais?' - Stephen during Titanic
Sandy and Sandra
A definite favourite for their larger-than-life personalities and lively commentaries - and can you believe they're both grandmas?!
Sandy has two kids and five grandkids, and used to own a few South London wine bars as well as being a singer at the Blackpool Tower. Sandra, meanwhile, has four kids and three grandkids, and doesn't currently work.
Best quote: 'After my third and my fourth I said, "No way, I ain't pushing nothing".' - Sandra during One Born Every Minute
Giles and Mary
These two are fairly new to the series, but they're already a hit with viewers! Loved for their dry humour and witty one-liners, Giles and Mary are rather creative. Mary had her start writing for Tatler in the 1980s, and writes an agony aunt column for Spectator, while Giles is an artist - with the unique decor in their TV room, how could we have expected any less?!
They have a cupboard that's filled with broken cups and plates, named the 'mending cupboard', and are also said to be friends with Boris Johnson and his sister Rachel!
Best quote: 'Australians can do no wrong in my eyes. Obviously with the exception of Rolf.' Giles during Neighbours
The Tappers
The Tappers have been a favourite family since the beginning, thanks to their down-to-earth attitudes and their tendency to argue in front of the cameras! Mum Nikki is a nursery school teacher, and dad Jonathan was a chef in a kosher restaurant but is now a chauffeur.
Interestingly, Nikki almost won Jewish Mum of the Year after having treatment for breast cancer, and the family got on to Gogglebox because they were so memorable for one of the researchers. Who would have thought such a difficult time could have led to something so fab?
Best quote: 'Is having a baby the same as having a poo?' - Jonathan during One Born Every Minute
Reverend Kate and Graham
It all started for these two when Kate decided to keep going to church because she fancied the vicar's son!
22 years later, they have two children named Ruby, 13, and Arthur, 10, and a greyhound called Buster, who often appears on camera causing mischief during the show. Graham is a violin teacher, and Kate is the vicar for Ranskill, Blyth and Scrooby.
Best quote: 'I'm so excited I'm going to have a chocolate wafer.' - Rev Kate during Eurovision
Steph and Dom
Where do we begin?! They're almost always drunk (or getting there) and that's what we love about them. Commonly known as 'the posh ones', Steph, Dom, and adorable sausage dog Gigi own a luxury B&B in Sandwich, where Nigel Farage once stayed, and have also appeared on Four In A Bed and The Jump - king and queen of Channel 4? We'd say so!
Best quote: 'I want Amanda's hairdresser.' - Steph during Britain's Got Talent 'I want Amanda.' - Dom
Trusted, informative, and empathetic – GoodTo is the ultimate online destination for mums. Established in 2007, our 15-year-strong archive of content includes more than 18,000 articles, 1,500 how-to videos, and 7,000 recipes.