'My agent told me not to tell anyone about it' Kathy Bates opens up about her secret cancer battle
Actress Kathy has spoken out about her secret battles with ovarian and breast cancer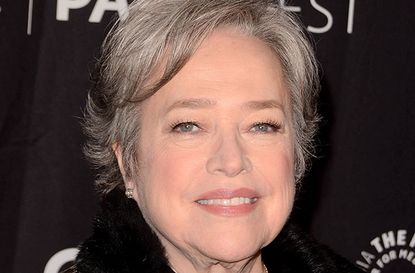 Kathy Bates has spoken out about her health battles after fighting ovarian cancer (opens in new tab) in 2003, followed by stage II breast cancer (opens in new tab) in 2012.
The actress, who is known for her roles in films including Titanic, Misery, and Fried Green Tomatoes at the Whistle Stop Cafe, opened up about the subject in an interview with WebMB, where she also discussed her subsequent experience with lymphedema, a condition which causes debilitating swelling and is common in cancer patients after treatment to remove the nodes that support draining of lymphatic fluid.
Kathy, now 69, explained that when she was first diagnosed with cancer, she was advised against discussing her illness in public.
'Back in 2003, when I had ovarian cancer, my agent told me not to tell anyone about it,' she said. 'Even my gynecologist, whose husband worked in the business, warned that I shouldn't come out with it because of the stigma in Hollywood. So I was very careful.
'But then I saw Melissa Etheridge [an American singer who had breast cancer in 2005] doing a concert and just wailing on her guitar with her bald head, and I thought, "Wow, I wanna be her!" So when the breast cancer diagnosis came, I knew I wanted to be honest about it.'
She added that she had a history of breast cancer in her family - her mum had suffered from it, and it had sadly taken the life of her aunt. Like her mum, Kathy underwent a mastectomy: 'I've joined the ranks of women who are going flat, as they say. I don't have breasts - so why do I have to pretend like I do?' she questioned.
'That stuff isn't important. I'm just grateful to have been born at a time when the research made it possible for me to survive. I feel so incredibly lucky to be alive.'
However, after her surgery, Kathy began to notice the same side effects as her mother had experienced before her.
'My mother had had a radical mastectomy - they took everything - and her arm swelled terribly,' she continued. 'She was always a very smart dresser and wore very nice clothes, and after the surgery, she couldn't fit into them anymore. It was a real slide into her feeling "less than." And so I remember getting hysterical when, even in the hospital, I noticed strange pains in my hands and then discovered that my arms were swelling.'
Kathy still suffers from lymphedema, and wants to raise awareness of the condition, which she believes that many healthcare professionals are still uneducated about.
'Now I've lost quite a bit of weight, and that has helped considerably, but I still have to be careful. I can't have a lot of salt or alcohol, I have to stay out of the heat, and I'm not supposed to pick up heavy things,' she said.
'Yet many doctors are not educated about this disease. I've been told by doctors affiliated with LE&RN that in 4 years of medical school, future doctors spend a total of 15 to 30 minutes on the lymphatic system.'