'It feels like I'm poisoning my body' Kerry Katona quits alcohol to maintain three stone weight loss
The booze ban has worked wonders for Kerry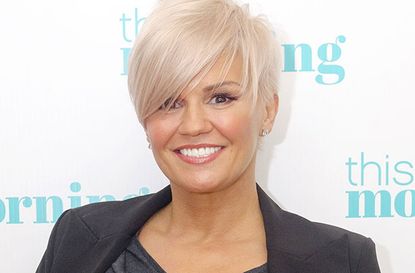 Mum-of-five Kerry Katona has opened up about how she's maintaining her incredible three stone weight loss, crediting her success to a booze ban.
A few months after revealing her fantastic weight loss, Kerry has revealed the secrets behind keeping her slimmer figure.
Speaking to OK! magazine (opens in new tab), she revealed she no longer drinks alcohol and doesn't even enjoy it any more.
'When I have a drink, it tastes horrible. I think I'm being such a health freak at the moment, it feels like I'm poisoning my body when I have a drink!', she said.
In the past, Kerry has undergone operations including a mini tummy tuck and liposuction, telling fans in October 2016: 'Well I've been recovering from having a s**t load of lipo!! #dontjudge!! 😂😂 5 kids and all!! And a mini tummy tuck! Just a kick up the arse x'
She said of her decision to have surgery: 'Don't wanna be a fat cat amongst the kittens', but added that she'd still be working hard on her natural weight loss, concluding: 'Can't wait to get back in gym!!'
Now, however, Kerry says that she wouldn't suggest the procedures to others in pursuit of their dream bodies.
'I've practically cut out alcohol, which has made a huge difference to my belly - although I wouldn't mind toning it up a bit. I'm finally feeling confident in my own skin and comfortable with my body,' she explained to Closer magazine.
'I wouldn't advise anybody to have surgery - I didn't need it. I've got into a routine where I don't think I'd put on weight again.'
The majority of Kerry's slimming seems to be down to hard work, exercise and eating right, so here are a few of her diet and exercise secrets that you can try at home...
Go on a booze ban
Kerry revealed that she'd been trying to limit her booze intake in the past, explaining: 'I don't drink during the week. If I'm going on a night out I'll drink, but I don't go out very often.'
In a recent interview with Closer, the mum opened up on cutting back further, explaining the impact it was having on her body: 'I've practically cut out alcohol, which has made a huge difference to my belly; although I wouldn't mind toning it up a bit. I'm finally feeling confident in my own skin and comfortable with my body.'
Get active when you can
Kerry has been getting more into exercise since setting out on her weight loss journey, and now she says getting active whenever - and wherever - you can is key.
Speaking to OK! magazine, she explained how she boosts her exercise regime without leaving the house: 'I get up at about 5.30am, before anybody else, and do some yoga; that's helping to tone me. George is training me so, after the kids have gone to school, we do a circuit in the kitchen. I've been going hiking in the hills close to where I live too, so that's all good for me.'
It's about a mindset, not a figure
Kerry's figure has fluctuated over the years, but in a comment that will resonate with a lot of women, she said that her healthy new approach to life wasn't so much about the end result, but more about changing her mindset towards her body in the long term, and learning to love herself.
Speaking to OK! she said: 'This isn't about my body, this is all to do with my mindset. I could be a size 14 and feel great. If I feel good in my head, I feel good on the outside. I'm still curvy.'
In January 2016, Kerry motivated herself by tweeting her promise to slim down to her 470K Twitter following, while encouraging them to work alongside her, so she had quite the incentive to keep going!
Try a new exercise approach
Kerry has previously revealed that her weight loss journey started with using CrossFit gym workouts.
CrossFit gym members are encouraged to do a range of physical activity, ranging from running and swimming to squats, deadlifts and gymnastics, as well as eating plenty of lean meats, vegetables, nuts and seeds – and cutting out all sugar. All of the edible components are to be measured so that they 'support exercise but not body fat.'
Up your protein intake
Kerry's KFIT Nutrition range includes plenty of protein products, and with her name on the label, we'd imagine Kerry herself has been using them to slim down. From protein bars and shakes to fat metabolisers and green tea detoxes, her weight loss aids target a range of different factors.
It's thought that protein is good for helping you get your desired figure because it supports muscle growth. Your body uses protein to build and repair tissues, so it works by helping your body recover after a gym session or periods of intense exercise.
Read the full story in this week's OK! Magazine - out today
Rosie is an experienced food and drinks journalist who has spent over a decade writing about restaurants, cookery, and foodie products. Previously Content Editor at Goodto.com and Digital Food Editor on Woman&Home, Rosie is well used to covering everything from food news through to taste tests. Now, as well as heading up the team at SquareMeal - the UK's leading guide to restaurants and bars - she also runs a wedding floristry business in Scotland called Lavender and Rose.