Kerry Katona breaks down in tears as her daughters discuss her bipolar disorder on Loose Women
It was an emotional day for mum of five Kerry, as she returned to the Loose Women panel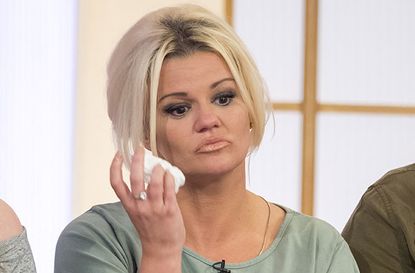 It was an emotional day for mum-of-five Kerry Katona yesterday, as she returned to the Loose Women panel for the first time in 12 years.
As well as taking her spot alongside her co-presenters to discuss that day's topics, the star also appeared in a special segment with her eldest children - daughters Molly and Lilly-Sue - as part of the show's 'Lighten The Load' campaign, which aims to remove the stigma associated with mental health.
With her daughters by her side, Kerry gave a candid account of her three failed marriages, her troubles with addiction and her life with bipolar disorder, while revealing that she has a very honest relationship with her two eldest children.
Kerry was first diagnosed with bipolar disorder at the age of 25 although explained that she had been ill for a long time, just as her singing career with former band Atomic Kitten was taking off. She described the diagnosis as a relief, especially as Molly and Lilly-Sue, being only five and four at the time, were too young to understand what was going on.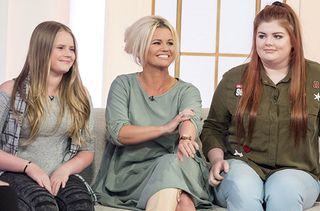 Molly, now 14, confirmed they didn't know about their mum's diagnosis for years, telling the panel: 'We just thought that mum was not in good mood today.'
'I just used to lock myself away in the room,' Kerry said.
In a move that may shock many, Kerry went on to explain how she broaches sensitive subjects from her past with her children. 'I've been very open with them, I've been very open with my cocaine addiction.
'I've shown them the video [of me taking cocaine], which is also about depression and bipolar. You have highs and lows, there is nothing in between for me. It's all or nothing.'
'She wants to do everything all at the same time. She goes crazy but in a good way,' Molly explained of her experience of her mum's bipolar.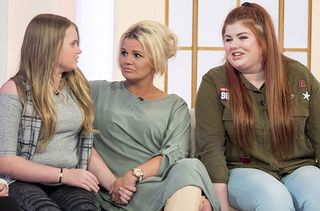 Lilly, 13, added: 'When it's not a high... it can be really tough. When she's happy it can be really good like she took us to Brighton one day. It's mostly to do with the weather.
'For example if I get into the car at school I'll say what's the matter, what's wrong today. And I'll know anyway that she'll be down and it's a bad day,' added Molly.
Lilly went on to reveal just how grown up her approach to mental health is, telling viewers she'd had counselling after Kerry split from third husband George Kay last year.
'Especially now that we're older we understand it a lot more. Quite frankly it's something that you shouldn't be ashamed of,' she said.
'I took counselling, especially when George left and mum's mood changes. It was really difficult because George was my best friend in times when mum would spend four or five days in her room upset.'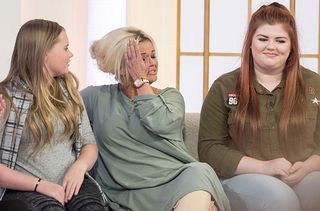 Her daughters, who Kerry shares with first husband Brian McFadden, sat either side of their mum during the emotional interview and could be seen supporting Kerry throughout. At one point, while explaining how proud she is of her girls, Kerry broke down in tears: 'As my girls are sat here on national television, they've seen a lot and I'm so grateful that they've turned out amazing and I'm so proud of them.'
The star later took to Twitter to thank Loose Women for having her but also to reiterate just how proud she was of her daughters: 'So so proud of my girls @123_mollymc @lils_mc today and was amazing to be a @loosewomen again thank you sooo much for having us xxxxx'
Viewers and Kerry's fans were quick to follow suit, tweeting the mum messages of support and praise for her girls. One tweeted: '@KerryKatona7 your girls are amazing I struggle daily, no one knows how much, LW made me cry Molly & Lily you are amazing young ladies xxxx' while another added: '@KerryKatona7 your heart must be bursting with pride!! Whatever is thrown at u - u did that - u made those 2 girls that amazing #fact!! Xx'
If you or someone you know is dealing with mental health issues and you need help, don't hesitate to contact Mind on 0300 123 3393.
Parenting advice, hot topics, best buys and family finance tips delivered straight to your inbox.