A Place In The Sun presenter Laura Hamilton stuns fans with incredible 5 stone weight loss
The stunning star is looking better than ever!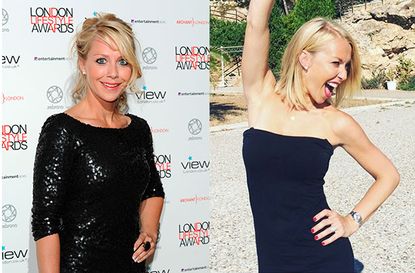 She only welcomed her second daughter in May 2015, but stunning A Place In The Sun presenter Laura Hamilton has already lost a staggering 5 stone - and we can't believe how incredible she looks!
The star, who has two children - son Rocco, two, and daughter Tahlia, one - has been wowing fans with her incredible weight loss on her social media accounts, sharing pictures of her progress.
Laura in October 2011
Laura, who's been married to her husband Alex Goward since September 2012, revealed that she put on 4 stone during her second pregnancy. But it seems the 34 year old was determined to get her pre-baby figure back, and she's been working hard to do so!
The TV favourite, who's now lost a staggering 5 stone, has revealed the secret to her success... and it all comes down to a nifty tool she's developed herself, for other mums in a similar situation.
After working with trainer to the stars John Beeby - who counts Nicole Scherzinger amongst his clients - the mum of two decided to create a fitness app especially for those with babies and toddlers.
'Most of us these days have busy jobs or hectic lives. Hitting the gym just isn't possible. I found it difficult to stick to a regular workout schedule', she told OK! magazine.
'But then I teamed up with John Beeby and we created the Full Body Workout in this app. It is suitable for everyone.'
The app, which costs £2.99, features five workouts designed to tackle every body muscle, and it's already been receiving rave reviews from her Instagram fans.
One user commented: 'Hi Laura, I've just downloaded the new app!, I also work full time and just had my third son a year ago, looking forward to getting started with this!! Thank you x'
Another added: 'Have downloaded and done a couple of times so far (not as many as I should have 😳) - love it though, definitely felt like I'd done a good work out but didn't take over the day, very easy to fit in! 🙌🏻'
One thing's for sure - Laura looks amazing! Let us know if you've tried her app in the comments section below.