'Kicked cancer's ass before it could kick mine' Woman with BRCA 2 gene documents mastectomy
'My boobs are gone. Crazy, right?'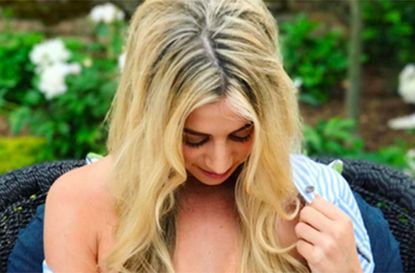 GoodTo newsletter
Sign up to the GoodTo Newsletter. You can unsubscribe at any time. For more information about how to do this, and how we hold your data, please see our privacy policy
Thank you for signing up to . You will receive a verification email shortly.
There was a problem. Please refresh the page and try again.
A woman has bravely documented her mastectomy on Instagram after testing positive for the BRCA 2 gene mutation, which significantly increases the risk of developing breast cancer (opens in new tab).
Lesley Anne Murphy, a former contestant on US show The Bachelor who now blogs about her life at The Road Less Travelled, has shared a series of honest images from her surgery, telling her followers that she 'kicked cancer's ass before it could kick mine'.
Lesley's mother was diagnosed with breast cancer three years ago 'and came out a badass survivor', and now Lesley has taken her future into her own hands by having elective surgery to minimise her own chances of having the disease.
Writing alongside an image of her post-surgery body, she revealed the challenges of life after undergoing the operation.
'My mom washed and dried my hair today. She dresses me in the mornings. She also measures my drains twice daily which are the tubes you see coming out of my lovely red apron I never take off. She's the freaking best,' she told her 220,000 followers, adding that her mother also slept in her bed for the first few nights, and had helped her with pain management.
'I have to sleep on my back in the exact same position every night. Sometimes when I make the wrong movements it feels like my chest is detaching from my body, but all in all, I think my upper half is healing nicely!'
'Sure, it's sunken in and lumpy because what you see are deflated expanders that were put in which will gradually get filled every 2-3 weeks as I get ready for reconstructive surgery. Hopefully by then the permanent marker will be off my body😂I feel lucky because my surgeons only made one vertical incision on the lower half of both breasts while saving skin & nipple. So while all breast tissue is (hopefully) gone, I retained some of the old me! Happy Sunday. God is good.🙌🏻'
Lesley admits that the experience is still 'hard to get her head around', adding: 'My boobs are gone. Crazy, right?'
However, fans have been quick to praise her positive, honest approach to her mastectomy.
'I can't believe how brave you are and how beautiful it is that you're sharing your story with the world ❤', one wrote.
'I have been following you since your Bachelor days and really think you are an outstanding person!' another agreed. 'You have so much good advice to offer and have a great love of life and travel! It's very inspiring! I pray that all goes well with your recovery and that your voice resonates with others battling the same thing'.
Shortly after her operation, Lesley responded to the messages of support, replying: 'I am overwhelmed with the outpouring of support from friends, family, followers and complete strangers. So so overwhelmed.
'You guys know how to make a bruised and weak woman feel on top of the world. Thank you from the bottom of my heart💗Your prayers, well wishes and good vibes are working🙏'
She's also penned a blog with advice for anyone considering going through the same process, including purchasing bolster pillows and button down PJs, suggestions for pain relief and maintaining appetite, and enlisting the help of friends and family.
'My final advice would be to throw any and all alarms out the window,' she concludes. 'Your body needs time to heal, so take advantage of sleeping in, Netflix and chill, and find peace in the stillness.'