Muslin cloths: 14 things you didn't know you could do with muslin cloths
They're not just for babies, you know.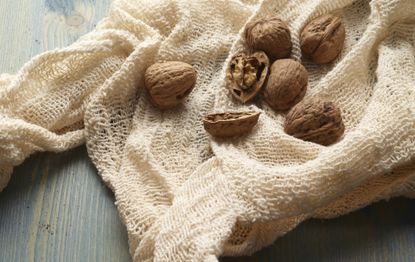 (Image credit: Getty)
GoodTo newsletter
Sign up to the GoodTo Newsletter. You can unsubscribe at any time. For more information about how to do this, and how we hold your data, please see our privacy policy
Thank you for signing up to . You will receive a verification email shortly.
There was a problem. Please refresh the page and try again.
Anyone who's ever had a baby knows that muslin cloths are a godsend.
From a discreet breastfeeding solution or a handy comforter to a way of cleaning up any, erm... emissions from your little bundle of joy, they're the ultimate multi-purpose purchase for parents. Muslin cloths.
But we're about to let you in on a secret.
There's tons of stuff you can do with these magical squares that have nothing to do with a newborn.
Muslin cloths can be used as part of your beauty regime, in your kitchen and even around the house. Here, we fill you in on 14 of the best muslin cloth uses - if you haven't got a stash of them already, you'll want one by the end of this list!
Exfoliate skin
When paired with a rich, nourishing cleanser, muslin cloths are great for brightening and exfoliating the face. Simply apply the cleaner, let it work for a few seconds, then run the cloth under warm water and buff away. You should look glowier almost instantly.
Prepare lips
Similarly, muslin cloths make an inexpensive lip exfoliant; ideal if you get sore lips in the winter, or want to wear lipstick that won't be forgiving of any imperfections. Rub the cloth gently over any dry areas, and then finish with lip balm to moisturise.
Sieve jam or marmalade
Homemade jams and marmalades may seem like a faff, but as soon as you taste them, the effort is all worthwhile. Muslin cloths are used to strain the mixture and remove any lumps of seeds, leaving you with a smooth preserve worthy of any loaf or cake.
Create DIY tea bags
Another foodie use for muslins is to wrap a small spoonful of loose-leaf tea into them, and then knot tightly to ensure it doesn't spill. Add to hot water, and you've just made homemade herbal tea bags - genius!
Squeeze a lemon
Lemon juice is fab for everything from salad dressings to drizzles. Make your life easier when whipping them up by covering the lemon wedge with a muslin before you squeeze - it's a simple solution for catching pips, and works equally well with other citrus fruits like lime or orange.
Make cheese
Okay, so this probably isn't an everyday activity, but making your own cheese is a fun challenge, and a muslin cloth is the key to getting the best out of it. Have one on standby to separate the curds from the liquid in your cheesy masterpiece.
Get moisture out of vegetables
This cauliflower pizza recipe (opens in new tab) is one of our favourites, but every connoisseur of a vegetable base knows the secret to perfection is a seriously fluffy cauliflower 'flour'. Wrap the cauli in muslin and wring it out as hard as you can, and you'll be blessed with the cauliflower pizza crust of your dreams.
Wrap gifts with muslin cloths
Whether you're trying to cut down on waste, or just can't find the sellotape (again!), muslins make an inexpensive and attractive gift wrap alternative. Tie with a pretty ribbon or patterned string for the fanciest-looking results.
Protect your hair
Face mask fans, this one is for you. When you're applying your usual pack, fold a muslin in half to create a 'bandana', which you can tie around your hairline to protect your locks from the ensuing mess.
Ease congestion
Vicks and similar menthol products are great for unblocking your airways, but not many of us love being smeared in the stuff. Instead, apply them to a muslin and place it under your pillow or on your bedside table, and you should still be able to breathe more easily.
Shine your shoes
Dig out the shoes that have been stuck at the back of your wardrobe and seen better days, and give them a scrub with a trusty old muslin. They'll become cleaner and smarter before your eyes!
Dust your surfaces with muslin cloths
Muslin is lint-free, which means it won't leave any residue when you use it in your daily cleaning. It's brilliant for dusting, but will also leave a gleaming result on any glass and windows too.
Freshen air
Use the same technique as the teabags, but instead put pot-pourri, or another bundle of cloth scented with a few drops of essential oil, inside. These can be hung in your wardrobe, sit in your drawers or hidden in the bathroom to make everything smell fresh and clean.
Craft a photo background
Aspiring blogger, or just snap-happy? Muslin cloths make the perfect clean picture backdrop. Use the largest cloth you can find, and hang over the area you want to photograph. Voila, an easy white backdrop you can move and adapt whenever you like.
Trusted, informative, and empathetic – GoodTo is the ultimate online destination for mums. Established in 2007, our 15-year-strong archive of content includes more than 18,000 articles, 1,500 how-to videos, and 7,000 recipes.