Nadiya Hussain lost three stone in nine months by drinking more water and walking
The Bake Off winner lost three stone in nine months!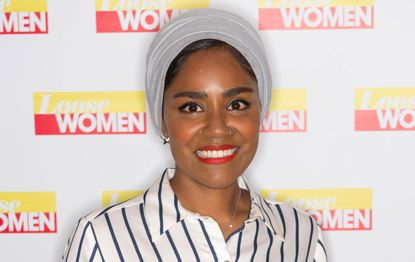 Nadiya Hussain's weight loss is pretty impressive given that The Great British Bake Off winner recently admitted to having cake in her house at all times.
Mum-of-three Nadiya shot to fame in 2015 when she won the popular baking show and her career has rocketed ever since.
Although she sported a very slim figure while on the show, Nadiya revealed she was once in clothes sized 16 and 18.
Given that the Bake Off star's recipes continue to be delicious, indulgent and not to forget quirky (we're talking about THAT fish finger lasagne), it's impressive she's kept the weight off.
Impressively, Nadiya was able to lose three stone in nine months by adopting some very simple habits that you could try too if you want to lose weight.
While some people rave about the 5:2 diet, the 16:8 diet or the more recent guidelines of 400-600-600 diet, Nadiya wanted something simple and easy to follow.
Nadiya has visibly slimmed down since her Bake Off victory in 2015 too
Instead of calorie counting, she chose to reduce the portions of food she was already eating (just like chef Gordon Ramsay). Instead of intensive boot camps and short-term gym stints she chose to take up more walking, and instead of opting for gimmicky 'skinny teas' and shakes, Nadiya simply drank more water.
Nadiya first noticed that she put on weight after she married her husband Abdul.
Speaking to Hello! magazine she explained: 'After I was married and a mum, I got comfortable, my husband loved me, the house was warm, I was happy. I was a size 16/18.'
The Bake Off champ finally decided enough was enough and took to losing weight. She said: 'I decided three years ago to do something about my weight. I briefly tried meal replacements and lost a stone but they didn't suit me.
'Instead, I just ate smaller portions of food and walked a lot. I would do five miles before the kids got up and then go out again in the evening.'
Nadiya continued: 'I also drank around four litres of water a day. Gradually, over nine months I lost three stone.'
It's so refreshing to hear such sensible advice, and we think she looks great!
Jessica currently works as a Senior Food Writer at Future. She writes food and drink-related news stories and features, curates product pages, tests, and reviews equipment, and also develops recipes that she styles on food shoots. An enthusiastic, self-taught cook Jess adores eating out and sharing great food and drink with friends and family. She has completed the Level 1 Associate course at the Academy of Cheese and is continually building on her knowledge of beers, wines, and spirits.