Natural anxiety remedies that can help you to unwind
Feeling worried or stressed? These natural anxiety remedies will help you to relax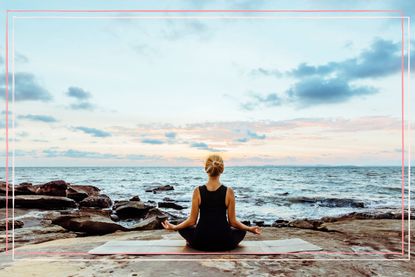 (Image credit: Getty Images)
We're all prone to feelings of anxiety now and then, but there are a number of effective natural anxiety remedies that can help us get back to feeling ourselves.
Symptoms of anxiety (opens in new tab) can be tough to tackle, from restlessness and difficulty concentrating to, in some cases, symptoms of a panic attack (opens in new tab). Fortunately, there are a number of natural anxiety remedies you can turn to that will provide some stress relief, from breathing exercises (opens in new tab) and herbal remedies to everything in between. Easier on your body than prescription drugs, with very few - if any - side effects, they're often less expensive than over-the-counter relief too.
Simone Thomas, author and founder of Simone Thomas Wellness, says "We are living in extremely challenging times and there is little surprise people are dealing with a range of emotions and feeling overwhelmed. While medical advice is sensible if you are really struggling, there are natural ways that you can start to ease stress that will help bring a little calm back into your life."
Natural anxiety remedies: 12 expert tips to try
1. Mindful meditation
Mindfulness is a great way to combat anxiety, because paying more attention to the present moment and your own thoughts and feelings is important for mental wellbeing. In fact, a study (opens in new tab) from Boston University produced scientific evidence that mindfulness-based therapy is an effective intervention for treating anxiety.
Simone Thomas (opens in new tab), founder of Simone Thomas wellness, says "Meditation might seem like a bit of a buzz word right now, but it's an amazing way to pause your thoughts and get some clarity in your day. You don't need any fancy equipment or classes, instead, find a quiet, safe spot, sit down, close your eyes and simply breathe."
Our easy 8-step mindful meditation:
Choose a quiet place where you won't be disturbed.
Sit in a position comfortable for you; try lying down, standing, sitting or even walking.
Once you've found your ideal posture try to focus on being deeply calm and your breathing pattern.
When you have settled into your meditation, it's time to examine the four foundations of mindfulness.
For mindfulness of the body: Focus on each body part separately, like your head, heart, stomach, while continuing to keep your breathing deep and steady.
For mindfulness of physical feelings and sensations: Concentrate on what you're feeling and mentally let go of any physical discomfort to reduce tension.
For mindfulness of mental state: Notice what you're thinking about and give a greater consciousness to whatever comes into your mind during this period.
For mindfulness of the consciousness: Note if you're feeling anxious, peaceful, stressed or angry. Concentrate on any negative energy and try to let go of these feelings.
2. Listen to relaxing music
We all know that listening to certain songs can spark certain emotions - be it sadness, happiness, or anger. But a study (opens in new tab) from the University of Pennsylvania found that listening to a track of relaxing music was as effective as a sedative in reducing patients' anxiety.
The song they used was 'Weightless' by Marconi Union, leading the track to be unofficially known as the world's most relaxing song, with more than 50 million views on YouTube.
According to The Independent, the band wrote the song specifically to reduce anxiety, blood pressure and heart rate, working with sound therapists and incorporating scientific theory, making it the perfect calming music for children (opens in new tab) and adults alike.
Dr Meg Arroll (opens in new tab), Chartered Psychologist at supplement and wellbeing brand Healthspan, says "research has shown that listening to music reduces cortisol levels, which helps to manage anxiety. Playing music is also helpful for people that want an alternative to first-line treatments such as cognitive behavioural therapy and medication."
3. Colouring
Adult colouring books have become hugely popular in recent years, but there is now scientific proof that colouring can reduce symptoms of anxiety and depression. A study (opens in new tab) from the University of Otago in New Zealand showed that daily colouring improves some negative psychological conditions and can be used an effective self-help tool.
Dr Tamlin Connor said "Our findings bode well for the potential psychological benefits of colouring-in. In this way, colouring-in could be considered an act of everyday 'little c' creativity, in much the same way as gardening or gourmet cooking.
"With its low risk and accessibility, we feel comfortable adding colouring-in to the growing list of creative activities for improving mental health outcomes."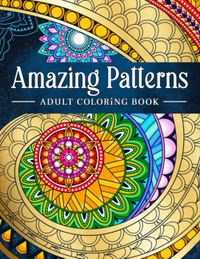 (opens in new tab)
Amazing Patterns: Adult Coloring Book, Stress Relieving Mandala Style Patterns £3.99| Amazon (opens in new tab)
This relaxing adult colouring book will allow you to break away from the chaos of everyday life and plunge into the land of peace and relaxation.
4. Scent
Dr Sam Watts (opens in new tab), lead Ayurvedic consultant, says "The human physiology has adapted in a way that makes it incredibly effective at utilizing scent to induce healing responses. In the context of anxiety, these benefits have been shown to be profound. For example, certain essential oils, such as lavender and chamomile, have been clinically proven to reduce anxiety and improve mood in a wide variety of different adult populations."
Ayurveda is a natural system of medicine that originated in India more than 3,000 years ago. It uses diet, herbs and other natural treatments to restore balance and wellbeing.
Dr Watts goes on to explain that "One of the key reasons for this speed of effect is down to the olfactory pathway in the nostrils. Upon smelling a relaxing scent, the molecules making up the smell are converted into nerve impulses that are able to directly, and very quickly, modify the workings of key centres of the brain, namely the hypothalamus, in a way that helps to switch the body into an anxiety reducing state."
So, putting a few drops of essential oil into your diffuser could be a step towards reducing feelings of anxiety. Make sure you know how to use essential oils (opens in new tab) safely, as they can cause skin irritation if not mixed correctly. Alternatively you could just treat yourself to a nice smelling soap.
5. Breathe
Make yourself as comfortable as you can. If you can, loosen any clothes that restrict your breathing.
If you're lying down, place your arms a little bit away from your sides, with the palms up. Let your legs be straight, or bend your knees so your feet are flat on the floor.
If you're sitting, place your arms on the chair arms and place both feet flat on the ground, roughly hip-width apart.
Let your breath flow as deep down into your belly as is comfortable, without forcing it.
Try breathing in through your nose and out through your mouth.
Breathe in gently and regularly. Some people find it helpful to count steadily from 1 to 5, though you may not be able to reach 5 at first.
Then, without pausing or holding your breath, let your breath flow out gently, counting from 1 to 5 again.
Keep doing this for 3 to 5 minutes.
The NHS recommends this breathing technique as a way of reducing feelings of anxiety and say you will feel the most benefit if it is incorporated into your daily routine.
Dr Arroll adds "When we are anxious, we tend to breathe from our chest and our breathing becomes faster and shallower. This impacts on how your body processes oxygen and carbon dioxide and this leads to a quicker heart rate, a raise in blood pressure and other physiological changes. By inhaling through the nose for a count of 3 and exhaling through the mouth for at least a count of 4, you can engage your innate parasympathetic system, which helps the body to relax and return to a balanced state."
6. Have a bath
There is something so relaxing about having a hot bubble bath, and not just for physical wellbeing. A study (opens in new tab) by the University of Freiburg in Germany found that a 30 minute soak in a warm bath (40c or higher) every afternoon or evening can dramatically improve a person's mental wellbeing.
Dr Arroll says "research shows that taking a hot bath at home significantly changes the patterns of brain waves, effectively reducing mental strain as it stimulates the parasympathetic nervous system through the experience of lukewarm water on the body."
Like many natural treatments for anxiety, this is by no means a long-term cure for anxiety disorders, but it can provide short-term relief for when your anxiety is peaking on a particular day.
7. Chamomile
For hundreds of years, chamomile has been used as a natural remedy for lots of common conditions, from soothing tummy aches to reducing anxiety.
Dr Sarah Brewer (opens in new tab), medical director at Healthspan, explains an early study in which patients were given a cup of chamomile tea before an operation as their only form of pemedication. She says "The workload of their heart did change significantly, and although their brachial blood pressure did rise as part of the anxiety of having the catheter fitted, the blood pressure within their left and right ventricles did not change."
You can buy whole dried chamomile flowers to brew in hot water as tea, or buy pre-made tea bags in the supermarket. Alternatively, if you don't enjoy the flavour, you can take chamomile supplements, available to buy from chemists and health food shops.
8. Fruit and veg
We all know that fruit and veggies are good for us, but don't underestimate their impact on anxious feelings - eating your five a day can affect your mental wellbeing just as much as your physical health.
For example, a study from Edith Cowan University found that eating a diet rich in fruit and vegetables is associated with less stress. Lead researcher, PhD candidate Simone Radavelli-Bagatini, said "We found that people who have higher fruit and veggie intakes are less stressed than those with lower intakes, which suggests diet plays a key role in mental wellbeing."
Psychologist and nutritionist Dr. Naomi Newman-Beinart (opens in new tab) adds "Research has found that people who eat more fruit and veg seem to have a better immune function and are less stressed. One study in Germany found that healthcare workers who consumed more fruit and veg had 20% fewer colds throughout the time of the study. An added bonus is that fruit and veg are also great for your skin and overall health."
9. Lavender
Lavender is a classic remedy to help with getting to sleep, but research has also shown that breathing in its scent can lower your heart rate and blood pressure.
Dr Deborah Lee (opens in new tab) from Dr Fox Pharmacy says "The main ingredients of lavender, linalool and linalyl acetate, have been shown to stimulate the parasympathetic nervous system (PSNS). When the PSNS is activated, the SNS is dampened down, and instead, the body settles down, with a slowing of the heart rate, slowing in the breathing rate, and a lowering of blood pressure."
Treat yourself to a good quality essential oil and dab a little on your wrists or put a few drops of it in a diffuser or oil burner, or spray it on your pillows before you turn in for the night.

(opens in new tab)
Freshskin beauty ltd | Lavender Essential Oil - 10ml - 100% Pure £2.75 | Amazon (opens in new tab)
Created by steam­ distilling the flower heads of the aromatic herb, this deliciously fragrant oil can be used for a variety of purposes around the home.
10. Exercise
We're not talking training for a marathon, but gentle regular exercise has been shown to reduce feelings of anxiety.
Dr Dimitrios Paschos (opens in new tab), consultant psychiatrist at Re:Cognition Health, says "Exercise is very beneficial for mental health, increasing mood, reducing stress, promoting sleep and having a very positive effect on self-esteem. Endorphins are happy hormones which are released when we exercise, helping reduce stress, relieve pain and improve wellbeing, while serotonin - a mood stabilizer which promotes healthy sleeping patterns - is also released, and sleep is essential in helping manage anxiety and other mental health conditions."
Try taking a short walk in the morning or take half an hour at lunchtime for a jog around the nearest park. Exercise also increases energy levels so you'll be doing yourself more than one favour if you keep up the good work.
11. Lemon balm
Ever since the days of ancient Greece, lemon balm has been well regarded for its soothing effects.
Dr Sarah Brewer (opens in new tab), medical director at Healthspan, says "Lemon balm was traditionally known as the Scholar's Herb as it was taken by students to overcome the stress of impending exams. It has a sedative action to reduce stress, anxiety, restlessness, irritability, headaches, insomnia and promote sleep. When combined with Valerian, the two herbs work together to reduce symptoms of tension and mild depression."
You can make lemon balm tea by steeping the leaves in boiling water.
12. Magnesium
Dr Arroll says "Mental health is associated with magnesium as low intakes can lead to anxiety and vice versa; stress and anxiety can lead to a more rapid depletion of magnesium from the body."
She adds that magnesium is used to produce energy in the body, which reduces tiredness and fatigue, and maintains normal cell functioning. Magnesium is also known to release muscle tension, so a handful of crystal in a warm bath can be used to provide some natural anxiety relief.
Video of the Week
Sharing her knowledge as a leading hair loss consultant, a bio-energetics practitioner and nutrition advisor, Simone Thomas is a respected and award-winning authority in the world of hair health and wellness.
Having personally suffered from hair loss, gut health issues and the devastating effects this had on her physical, mental and emotional wellbeing, she developed an interest in supplementation and the benefits it can have on restoring our health from the inside out.
Dr Meg Arroll is a chartered psychologist, scientist and academic researcher with a specialist focus on health and stress, invisible and misunderstood illnesses, integrative medicine and wellbeing. She has also conducted research into numerous long-term conditions and therapies used to treat illnesses such as CFS/ME, IBS and Ménière's disease.
Sarah qualified from Cambridge University with degrees in Natural Sciences, Medicine, and Surgery. Having worked as a GP and hospital doctor, she now specialises in nutritional medicine. She is an award-winning writer and the author of 50 popular self-help books, has a regular column in Prima magazine and is a regular contributor to UK press.
Having worked for many years in the NHS, mostly as Lead Clinician within an integrated Community Sexual Health Service, Dr Deborah Lee now works as a health and medical writer, with an emphasis on women's health, including medical content for Dr Fox pharmacy. She has published several books and remains passionate about all aspects of medicine and sexual health.
Ellie joined Goodto as a Junior Features Writer in 2022 after finishing her Master's in Magazine Journalism at Nottingham Trent University. Previously, she completed successful work experience placements with BBC Good Food, The Big Issue and the Nottingham Post, and freelanced as an arts and entertainment writer alongside her studies. In 2021, Ellie graduated from Cardiff University with a first-class degree in Journalism.