Wentworth Miller opens up about his depression in powerful response to fat-shaming meme
The actor says he's struggled with depression since childhood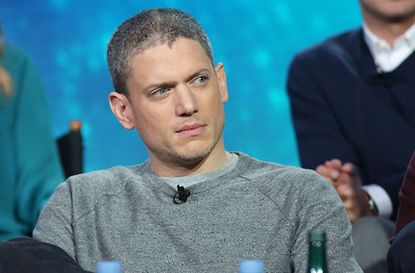 After coming across a meme of himself on social media, Wentworth Miller made the decision to speak out about his depression, which made him overeat and gain weight a few years ago.
The 43-year-old Prison Break actor's powerful message was posted as a reaction to a fat-shaming post on Facebook, published by viral content website TheLadbible.
The original post featured a picture of a shirtless Wentworth from Prison Break, the show he starred in between 2005 and 2009, next to a picture of him in 2010, with the caption: 'When you break out of prison and find out about McDonald's monopoly...'
https://www.facebook.com/wentworthmilleractorwriter/photos/a.1496071870605750.1073741827.1496070023939268/1713822728830662/?type=3&theater
Responding to the body-shaming meme, the Golden Globe Award winner spoke out about his depression, saying he's suffered with the condition since childhood and that his mental health was the reason which led to his weight gain.
'I've struggled with depression since childhood. It's a battle that's cost me time, opportunities, relationships, and a thousand sleepless nights', Wentworth explains in the post that's been shared over 75,000 times.
'In 2010, at the lowest point in my adult life, I was looking everywhere for relief/comfort/distraction. And I turned to food. It could have been anything. Drugs. Alcohol. Sex.
'But eating became the one thing I could look forward to. Count on to get me through. There were stretches when the highlight of my week was a favorite meal and a new episode of TOP CHEF. Sometimes that was enough. Had to be. And I put on weight. Big f--king deal', Wentworth wrote, adding that at the time the picture was taken he was suicidal.
However, Wentworth also said that the picture, which he often sees in fat-shaming memes of himself on the Internet like this one, also reminds him of his perseverance to overcome a dark time in his life.
'Now, when I see that image of me in my red t-shirt, a rare smile on my face, I am reminded of my struggle. My endurance and my perseverance in the face of all kinds of demons. Some within. Some without.'
The post was taken down from Facebook by TheLADbible, who later issued an apology to Wentworth Miller.
https://www.facebook.com/LADbible/posts/2691099820937191
'We posted two pictures of you last night to our Facebook page, but today we want to say we've got this very, very wrong. Mental health is no joke or laughing matter', they wrote on their Facebook page, adressing the post to the actor.
'We certainly didn't want to cause you pain by reminding you of such a low point in your life. Causing distress and upset to innocent or vulnerable people is simply not acceptable.'
His powerful Facebook post is not the first time Wentworth has spoken out about his mental health issues.
https://www.facebook.com/wentworthmilleractorwriter/photos/pb.1496070023939268.-2207520000.1459247795./1709956599217275/?type=3&theater
Wentworth Miller became famous for his role as Michael Scofield in Prision Break
In 2013, the TV star spoke at the Humans Rights Campaign Dinner in Seattle, revealing he attempted suicide for the first time at 15 years old.
'Growing up I was a target. Speaking the right way, standing the right way… Every day was a test and there were a thousand ways to fail… To not live up to someone else's standard of what was "acceptable", what was "normal".
'The first time I tried to kill myself I was 15… I waited till I was alone in the house… and I swallowed a bottle of pills. And when someone asks me if that was a cry for help I say "no", because you only cry for help if you believe there's someone to cry for.'
After a pause in his acting career, Wentworth is back on TV as Captain Cold in the superhero series The Flash and spin-off DC's Legends of Tomorrow. He will also return as Michael Scofield in Prison Break this summer.
Trusted, informative, and empathetic – GoodTo is the ultimate online destination for mums. Established in 2007, our 15-year-strong archive of content includes more than 18,000 articles, 1,500 how-to videos, and 7,000 recipes.