How we lost the weight: Real women share their advice
Dieting is no easy task, which is why we need tips from real women that actually work!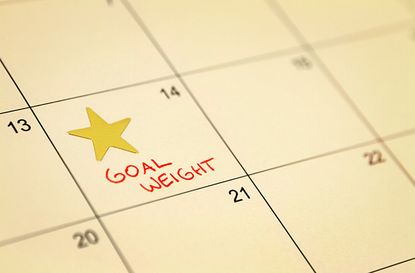 We're the first to admit that dieting isn't easy, but as soon as you begin to hit landmarks - like fitting into those jeans again, or hitting your target weight for the week - the penny drops. If you keep going, you really can reach your goal weight!
Need some encouragement? Who doesn't! These four real-life women - Kim, Sue, Gemma and Sarah - who, supported by Denise van Outen, have shared the highs and lows of their 12-week weight-loss journey with us, have now achieved their goals, losing over a stone each!
Collectively they've lost an amazing six stone in just 12 weeks, with a helping hand from slimming aid XLS-MEDICAL Max Strength, and they're looking and feeling fabulous for it. Seeing their success will boost your enthusiasm to keep going, so here they share their top tips to give you inspiration...
Our weight loss advice
Kim, 39, from Market Harborough, is a self-confessed foodie who has lost a stone and 8lbs over her 12-week weight-loss journey. Motorbike mad, she was determined to slip back into her leathers, so she joined the gym and worked hard with personal trainer Andy to get fit.
'At the beginning of the 12 weeks, I felt fat and frumpy. Now I have loads more energy and feel like a new me,' Kim says. 'The high points were my clothes fitting better, and all the compliments I've been receiving.' And the leathers? 'I've got them on and done up without having to roll around on the bed. They've even a bit baggy!' she laughs.
'I feel so much better than I did 12 weeks ago – like a complete new me!'
Kim's top tip: Plan ahead. If you're going out, decide in advance what you're going to eat so you can avoid temptation.
Sue, 49, from Stratford on Avon, gave up dancing eight years ago because she was embarrassed about her weight. But she missed 'shaking a tail feather' and was determined to reignite her passion for dancing by losing weight and going back to classes. She found that concentrating on eating foods she really likes worked for her, and she considers the past 12 weeks as a lifestyle change rather than a diet.
Losing weight has given Sue a burst of confidence. Not only did she pick some new outfits for a trip to America but she also got a fab new haircut. And in New York her willpower held out, she didn't eat a single doughnut! She also walked everywhere she could - even up the last six floors of the Empire State Building. Wow, we're impressed, Sue!
'I've loved the whole journey and have definitely changed my eating habits.'
Sue's top tip: Combine exercise with family time – for instance go on long walks with your partner, kids and even your dogs if you have them!
Gemma, 40, from Hastings, had a breast cancer scare, which kick-started her diet and fitness plan. 'I decided to lose weight because I was fat, miserable and lethargic. I wanted to feel good again and to find a diet that really worked.'
She has also got into exercise in a big way, using high-intensity workout videos at home and going to spin classes, which she loves!
At the end of the 12 weeks, after losing a total of a stone and half, the biggest change Gemma has found is that she can fit into her old clothes once again. She says she's now going 'shopping in her own wardrobe'. Regaining her body confidence has made her feel great, and she admits she hasn't found the healthy eating regime too difficult. Now Gemma's celebrating – with a dip in the hot tub and a well-deserved glass of wine!
'It feels amazing to be able to get into a beautiful dress again!'
Gemma's top tip: If you're entertaining, experiment with some low-fat, low-sugar recipes. Your guests probably won't even spot the difference!
Sarah, 50, from Hampshire, was having trouble with her knee and waiting to have a replacement. 'My doctor told me it would make a big difference if I lost weight,' she reveals. 'Plus I was tired of seeing that "fat girl" in the mirror!'
Before starting the diet, Sarah didn't fit into anything and felt uncomfortable. She's been surprised at how easy the XLS challenge has been, losing one stone and 7 lbs over 12 weeks – and how much she's enjoyed exercising regularly on her tandem bike, which she shares with her husband John.
Now not only has her body language changed but she feels happier, too. And all the family agree she's looking great – especially John, who seriously embarrassed the children by saying Sarah looks 'increasingly desirable' in her cycling trousers. Whoops!
'Normally when I'm dieting I feel hungry, but this time I felt full.'
Sarah's top tip: Focus on creating 'rainbow' meals, where your food looks appealingly colourful and take photos of your favourite dishes.
You can do it too
Denise van Outen, who has supported the women throughout their journeys, congratulated them all on 'a stellar job, an amazing achievement'. And Denise has a message for you too. 'It's been an incredible 12 weeks,' she says. 'There have been highs and lows. But it just goes to prove that, with hard work, determination and the helping hand of XLS-Medical, you could do this too. Good luck!' Eating a balanced diet and staying active is the best way to lose weight – and keep it off. XLS-Medical Max Strength is a helping hand that's clinically proven to reduce your calorie intake from carbohydrates, sugar and fat – and because it stabilises blood glucose, it also helps curb food cravings, so you lose weight faster*.
Working naturally with your body, women have found XLS-Medical Max Strength helps towards their weight loss goals faster than dieting alone* – simply take two tablets half an hour before your two main meals a day.
For more information and to watch the documentary Weight Loss – My Journey, hosted by Denise van Outen, go to xlsmedical.co.uk (opens in new tab).
* Reference: Grube et al. (2015)