Healthy snacks: Healthy snack ideas that will keep you full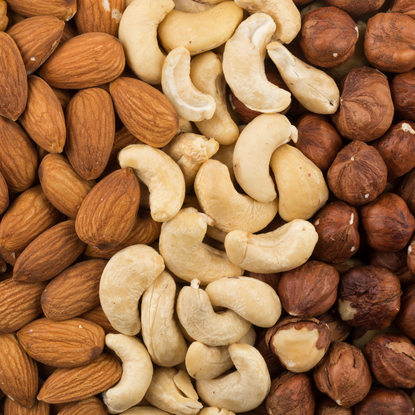 When 3pm craving hits, we know we should be going for healthy snacks rather than reaching for the biscuit jar. But let's face it, biscuits and chocolate sometimes kill our hankering for the sweet stuff more than fruit and nuts.
Luckily though, there are plenty of other delicious healthy snacks that can stop cravings and keep you full throughout the day. So whether you're just looking to stay away from the inevitable sugar crash that comes after eating high-sugar and calorific snacks, or wondering why you can't lose weight, we have you covered.
Healthy snacks don't just have to be boring, underwhelming foods. They're not just wafter-thins that don't even touch the sides and don't even have to be the snacks with the lowest calories. Although, unlikely popular options include Weetabix brownies and cakes since Weetabix has low calories, is high in protein and fibre.
We love the ideas curated especially for GoodtoKnow by Annie Williams, a personal trainer from Ori Gym, and CEO of Nourish Fit Food, Stephen Jones. As well as being tasty and filling, they're super nutritious and keep you full through the afternoon without that need to go back into the kitchen for something else.
So whether you're a sweet tooth or savoury fan, there are plenty of exciting healthy snacks to choose from. No compromises, no sad apples or pears from the fruit bowl. These will help see you through the day without leaving you hungry or impacting 2021 health goals.
They're also great for kids! In these trying times, it's important for kids to get as much extra nutrients from their food as possible. These healthy snack ideas can be so easily changed up to suit little ones, hungry after a hard day's work at school (or homeschool!).
If your focus is on losing weight this year, it's also worth checking out when you should eat before and after a workout, along with the foods you should eat after a work out.
Best healthy snacks
1. Mixed nuts
Annie says, "Mixed nuts make for a great, nutritious on-the-go snack that can be consumed at any point of the day. While they're high in 'fat' (healthy fat), they're proven to be equally as filling and can in turn lead to appetite management and weight loss when eaten in moderation.
"Additionally, there is sufficient research into their link to reducing the risk of heart disease, as well as a number other health conditions."
2. Apple with peanut butter
"Apple slices and peanut butter are a match made in health heaven." Annie tells us, "While apples offer a great source of fiber and polyphenol antioxidants - which are linked to improved gut health and reduced risk of heart disease - peanut butter also comes equipped with heart health benefits.
"Though peanut butter is calorific, it presents a perfectly nutritious-packed treat when consumed in moderation. To enjoy as a snack, I recommend pairing one medium apple with one tablespoon (15 grams) of natural peanut butter to achieve a nice balance of sweet, crisp and creamy textures."
3. Greek yoghurt
"Greek yoghurt is the ideal healthy and high protein snack, with a 224g serving supplying a massive 20g of protein. It is also shown to be more filling than other yoghurts that contain a much lower protein content, and therefore appeases your appetite for longer.
Plus, you can make it more exciting. Annie says, "You can add fresh berries or even granola for added textures, flavours and additional nutrients - however, note that granola is calorific and can bump the overall calorie intake of the yoghurt up significantly."
4. Energy bites
There's even something for the sweet tooths. "For the sweet tooths," PT Annie suggests, "No bake energy bites provide a perfect high protein snack that can be prepared from your own kitchen. They consist of a variety of nutritious ingredients required in a balanced diet, such as: nut butter, oats, and seeds, which are then rolled into balls. The best part about energy bites is that they don't require baking and are an easy on-the-go bite."
5. Protein shake
"Protein shakes offer a great snack when you need something substantial until your next meal. In addition to their high protein content, protein shakes come with the added physical benefits of: aiding gain muscle, promoting fat loss, and improving body composition.
"The market of protein is ever-growing, with companies now offering protein supplements that adhere to all dietary requirements, such as plant-based, vegetarian and gluten-free. You can acquire protein in pretty much any flavour you can imagine, so there is inevitably something for everyone."
6. Beef jerky
Stephen, CEO of Nourish food also has some recommendations. "Beef & salmon jerky, that have high protein content will take you a long way in helping you to feel satiated for longer and repair your muscles after training." He says, "They're also typically packed with other key macronutrients - fibre and good fats – which are essential when nourishing your body more effectively."
7. Berries and watermelon
"Instead reaching for a packet of sweets, opt for some fresh watermelon slices or mixed berries fresh out the fridge." Stephen says, "Both are great low calorie options that help curb sugar-cravings and watermelon is especially a gamechanger at keeping you hydrated."
8. Lucozade ice lollies
Craving ice cream? Here's a trick from Stephen.
"Make ice lollies out of Lucozade Zero. When you've got orange and pick lemonade to choose from it's not too much of a snack sacrifice and means you still keep within your macros."
9. Crunchy carrot and seed flapjacks
We love a snack that's packed with protein and good stuff - but is also perfect for mixing it up a little bit.
Our of our favourites is this recipe for crunchy carrot and seed flapjacks. While they might have more calories in them than the ideas suggested by our experts, they're certainly a lot healthier than a sugary pastry or a big bar of chocolate.
10. Guacamole
Who doesn't love avocado? It's been one of the biggest food trends of the decade! We love ours made into guacamole with a couple of crackers on the side. Packed with healthy fats, it's sure to keep you full and happy until dinner time.
10. Hummus
Creamy hummus isn't only a tasty snack, it's also really filling and super easy to make. Follow our simple hummus recipe or spice things up a bit with a recipe for roasted chilli pepper hummus.
11. Healthy banana bread
It's 2021, banana bread has been at the forefront of our minds for about a year now. But instead of having it with slathers of butter and making it with loads of sugar, try out this Madeleine Shaw recipe for vegan banana bread.
12. Rice cakes
While they're not packed with nutrients, they're certainly low in calories. Rice cakes can be the perfect snack to see you through the last hour of the day, before dinner is ready. To top them up, add peanut butter or low-fat spread, berries or bananas.
13. Granola
Granola is normally a breakfast go-to but it also makes a perfect afternoon snack. Top with dried or fresh fruit, greek yoghurt and honey for a filling treat, or just leave it as it is for a quick and easy healthy snack you can munch along on through the afternoon.
14. Roasted chickpeas
For something a little different, try roasted chickpeas.
Simply use 3 tbsp of olive oil in a pan, scatter with chickpeas, salt, pepper and paprika. Turn the heat on high and keep an eye on the chickpeas as they turn a lovely dark golden colour.
15. Vegetable crisps
Whether you make them yourself (try our recipe for vegetable crisps) or buy them (we love the low-calorie pea snacks from Podberry), vegetable crisps are a healthy alternative to our salty snacks.
Grace Walsh is a Features Writer for Goodto.com, covering breaking news health stories during the Covid-19 pandemic as well as lifestyle and entertainment topics. She has worked in media since graduating from the University of Warwick in 2019 with a degree in Classical Civilisation and a year spent abroad in Italy. It was here that Grace caught the bug for journalism, after becoming involved in the university's student newspaper and radio station.