70 reasons why Joanna Lumley is absolutely fabulous
The 70-year-old actress, mother, activist and vegetarian is a British icon. Here are 70 reasons why...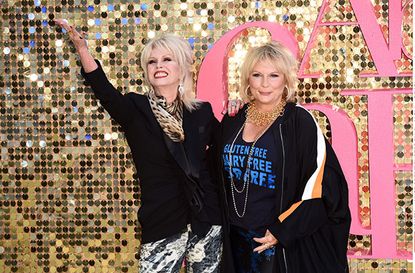 Without a doubt, Joanna Lumley is a national treasure.
The 70-year-old actress will reprise her role as the wine drinking, chain smoking, fashion icon Patsy Stone in the new Ab Fab movie and we are very excited. But there's far more to the actress that her most famous character - and you might not even know about some of them!
So in her honour, here are 70 reasons why we think Ms Lumley is absolutely fabulous. By the time you get to the end, we're sure you'll agree...
1. She's awfully posh
2. She was a model in the 60s
3. She's the only woman to EVER play Dr Who. (She appeared as the thirteenth Doctor in a Comic Relief spin-off)
4. She played the outrageous character, Patsy Stone, in the much loved Absolutely Fabulous
5. ...and what a character it was!
6. She's jolly stylish
7. She has one of the most distinctive voices of our time
8. Her M&S 'shwopping' campaign encouraging people to swap clothes in the name of charity.
9. She did a brilliant job of carrying the Olympic Torch
http://www.youtube.com/watch?v=816RP_HuI-4
10. She has so many legendary Ab-Fab moments, including this one when Eddie points out Patsy's panty line... but she isn't wearing any pants
11. The fact that she's in her seventies and still looks AH-MA-ZING
12. Her Ab-Fab knack of turning up to even the most low-key events, totally overdressed
13. When she met Will.i.am and just wasn't phased at all
14. The fact that she starred in one of our fave soaps, Corrie
15. And also played the hideously-dreadful auntie in the film adaptation of James and the Giant Peach
16. The classic moment when Patsy smoked a whole packet of cigarettes in one go and used a stove lighter to light them
17. She was a BOND GIRL in the film On Her Majesty's Secret Service
18. Remember the little voice on AOL which politely told you, 'You've got e-mail'? That was her!
http://www.youtube.com/watch?v=BS7xmChZp5U
19. We loved her adverts for Sky Go where she impersonates characters from popular Sky programmes, particularly this one for Game of Thrones
20. The way her and Eddie used to try and match their outfits and voices to each social occasion in the most ridiculous of ways (remember the chavs?)
21. Patsy's peroxide blonde beehive
22. Her absolute love of travelling
23. When she visited Greece, she went and met a village of people who speak in whistles (you've got to see it to believe it!)
24. The fact that she had a cheeky kiss with none other than Leonardo DiCaprio in Wolf of Wall Street!
25. Because she's now starring in the Ab Fab film!
26. She once shared a smooch with a camel
27. And starred as a detective in Sapphire and Steel
28. Being brave enough to speak out about being an unmarried mother during the 60s, which was still quite a taboo at the time
29. The time when Patsy and Eddie discovered Patsy didn't have an identity
30. She worked to help retired Gurkhas settle in the UK
31. She danced alongside comic legends, Morecambe and Wise
32. Her red lipstick is always immaculate
33. She starred in one of our favourite Saturday night mysteries, Jonathan Creek
34. She's outspoken about sexual assault not being taken seriously
35. Her attitude towards feminism. She wants 'equal pay for equal work' but acknowledges there are differences between us:
'I just feel that we think differently, achieve things by different methods. I think women like chitter-chattering together and I don't think men do. I think men like board meetings, and I am not sure women love them quite so much. I think women tend to use fewer utensils when cooking than men. I think women like buying new things rather too often while it is hard to get men to part with an old friendly garment.'
http://www.youtube.com/watch?v=glUm-cHeekc
36. For this Patsy moment, when she describes her passport photo as 'very recent'
37. Her brilliant book, named Absolutely: A Memoir
38. Because when she met her husband Stephen she knew instantly that they would be together
39. She has an OBE
40. When she was growing up, she wanted to work in a bar
41. She set the trend for double denim
42. The way she gave all the credit for Ab Fab's success to her co-star Jennifer Saunders for writing such 'fantastic scripts'
43. Everyday, she rearranges all the pictures in her house because the Tube thunders underneath her London home and shakes them all up
44. Her favourite movie is Breakfast at Tiffany's - how apt!
46. She plays the Queen in the film adaptation of David Walliams' book, Gangsta Granny
http://www.youtube.com/watch?v=J4nIhvsl6Og
47. For this moment when Patsy and Eddie join a book club
48. Because she has the same favourite Christmas song as us, Wham!'s Last Christmas
49. She's involved with over 70 charities!
50. She's prudish:
51. 'I don't even like watching kissing on screen!'
52. She almost, just almost, didn't do Ab Fab because she didn't think she was right for the role. But she ended up doing it after her agent convinced her as it was only a pilot
53. And because we can't imagine a life without it...
http://www.youtube.com/watch?v=PMFKz7IRPnA
54. When Patsy 'nodded off' and set the kitchen on fire
55. Because she spent a whole 9 days on a desert island in 1994
56. ...and said the thing she'd missed the most was lettuce
57. If she reads a bad review about herself she rips it up:
'If I rip it up it doesn't exist'
58. She was rejected by drama school RADA but was still determined to become an actress
59. The students at New College, Oxford named their Junior Common Room after her 60. She once cuddled a piglet outside parliament to protest against the horror of live animal transport, veal crates and battery hens
http://www.youtube.com/watch?v=WKZbUTjv0YY
61. She gave us this TV gold, when Patsy breaks her arm and has an array of painkillers at the ready
62. She's always had the perfect hairstyle for her age
63. She guest starred in US comedy Roseanne, which is another one of our favourite shows
64. She was born in India
65. She's a loving mum:
'To have your own baby is to know that you have something so wonderful and inexplicably brilliant to work for'
66. She spoke out against binge drinking in young women
67. She based Patsy's laugh on Elvis Presley's voice!
68. She was educated in Hong Kong
69. She is also a recognised stage actress, appearing in many plays from Desdemona in 'Othello' in 1975 to Ranevskaya in 'The Cherry Orchard' in 2007
70. Because she simply is, immeasurably, undoubtedly, and unbelievably absolutely fabulous. Fact!