The best hairstyle for your age
As we get older, lots of things can change including our style and the way our hair behaves, so it's important that our hairstyle keeps up! Check out our gallery for the celebrity hairstyle just right for your age.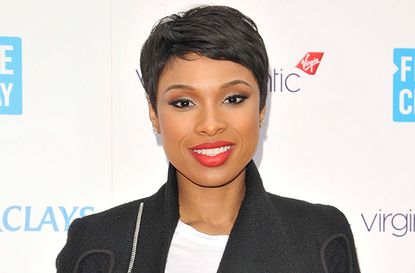 (Image credit: Rex Features)
As we get older, lots of things can change including our style and the way our hair behaves, so it's important that our hairstyle keeps up! Check out our gallery for the celebrity hairstyle just right for your age.
Ladies: hands up if you feel stuck in a hairstyle rut. (Now put your hand down and allow us to share two things with you):
1) Everyone feels exactly the same, especially as we get older and... 2) You'd be surprised at how easy it is to do something about it.
It feels like we're surrounded by gorgeous celebrities in their 20s showing off their beautiful hairstyles, but keeping the style we had in our 20s or copying a 20-something celeb isn't necessarily going to work for our 30s, 40s, 50s and beyond. And thank goodness I hear you cry - many of us are glad to see the back of our younger years for our clued-up, grown-up years, and we want our hairstyle to keep up too! As we get older, updating ourselves can be tricky but finding a new hairstyle can be a quick and easy way to overhaul our look (not to mention bag a load of extra confidence).
Although those A-listers are lucky enough to have the money, stylists and time to get their hair looking its best at any age, we can still learn a thing or two from them about how to adapt our style. With a million and one different hairstyles to choose from, it's not easy - no wonder we turn up at the hairdressers full of ideas of what we want and leave looking the same (or worse... )!
We've hunted high and low for the celebs rocking the best hairstyles for their age and grouped them into their 30s, 40s, 50s, 60s and 70s, so that you can spot the style that's just right for you and next time you're at the hairdressers, you'll have the right picture to wave in front of them!
Do you have a question about which hairstyle might suit you best? Ask away in the comments box below!
Anne Hathaway (31)
How beautifully healthy does Anne's short cropped hair look? She may still be young, but this stylish and sophisticated short do would work well on someone much older than her 31 years. By keeping hair shorter as you get older, it will be much easier to keep it looking thick and healthy too!
Jennifer Hudson (32)
Another super sophisticated crop, we love Jennifer's short hair look and the best thing? Hair this short works on all ages, so if your hair is looking a little tired and the ends have seen better days, getting it shorter and in a style that frames your face can work wonders when it comes to looking younger!
Holly Willoughby (33)
Just because you've left your 20s behind, there's no reason why you should turn your back on a girly tousled look, and Holly is the perfect example of that! Her blonde bombshell locks may look hard to achieve for us at home, but spritzing a little salt spray to damp hair and leaving it to dry naturally or with a diffuser could give you the same look too!
Christine Bleakley (35)
Many women say that when they approach their 30s they begin to feel more confident than ever, and Christine is looking happier and than ever at the moment! We just love her relaxed and pretty style - this shoulder-length, blunt and messy bob is perfect for anyone who wants to freshen up their hair.
Myleene Klass (35)
If your hair is long and lifeless and you're not sure how to bring it into your 30s, then look no further than the lovely Myleene. Whilst not all of us are blessed with lovely long locks, those of us that are can update them by softly curling sections with a wand. Beautiful!
See our best curling wands under £30.
Jenni Falconer (38)
How chic and sophisticated is Jenni's sharp bob hairstyle? We love a sleek bob because the angled hair cut to the jaw-line is flattering and fuss-free, meaning you'll be able to style your hair and head out the door in no time at all!
Lorraine Pascale (41)
Can you believe Lorraine is 41? We couldn't! Yes she may be blessed with gorgeously long locks, but that's not to say we can't take some fab anti-ageing hair tips from the lovely former model. The soft face-framing fringe is a great trick for anyone over the age of 40.
Claudia Winkleman (42)
While we're on the subject of the miraculous anti-ageing benefits of a good fringe, enter Claudia! While the thickness of her fringe may be too much for some, there's no denying that a full fringe hides a multitude of sins when it comes to those pesky forehead lines, taking years off your face with one swipe of the hairdresser's scissors!
Susanna Reid (43)
We love Susanna's brunette style because it's pretty and care-free, but that's not to say that some effort hasn't gone into making sure her colour stays healthy and glossy. As you get older your skin tone can change, so always opt for a colour with a little warmth. And only stray two shades away from your natural hair colour too!
Kate Silverton (43)
Talk about top of the crops! At 43 Kate is defying the signs of ageing with her low-maintenance but high-impact cropped cut, and the warm highlights suit her skin tone perfectly. Just rub a dab of styling cream, like Fudge Urban Texture Junk (£6.99), into the ends to give it that younger texturised look.
Kate Garraway (46)
Kate is proof that a sharp and blunt mid-length bob can work just as well in your 40s as it did in your 30s, especially with a soft full fringe to match! To get glossy gleaming hair like Kate's (and keep people guessing about your age) then add a touch of shine spray, like Tresemmé's Smooth Glossing Spray (£4.99), which contains Moroccan Argan Oil.
Davina McCall (46)
When it comes to a glossy, bouncy and healthy head of hair, Davina's locks tick all the boxes! A firm hair-colouring fan, as the face of Garnier Nutrisse Davina practiced what she promoted, telling the Express 'It's such a nice product and not very expensive.' Keep your hair looking glossy into your 40s with a good at-home hair dye like Davina does!
Lisa Maxwell (50)
If you're fair, worried about greys but don't want to opt for an all-over colour to hide them, then going for multi-tonal highlights like Lisa's can work wonders for giving your hair a lift. One colour all over can be a little harsh on some skin tones, so ask for highlights like Lisa next time you take a trip to the hairdressers for a super-flattering do.
Carol Vorderman (53)
Carol has found that the trick to looking younger lies in softening up your hair, so if length is on your side then asking for some long layers can make a huge difference when it comes to updating your look without going too extreme. Subtle but effective!
Ruth Langsford (53)
If you've got long hair but fancy a change without going too drastic (and too short) then Ruth's super soft and flattering short bob could be a great way to update your look. Older hair tends to feel a bit drier, so make sure you keep those ends lovely and moisturised with a leave-in conditioner, like Toni&Guy Prep Leave In Conditioner, £5.49.
Lorraine Kelly (54)
Lorraine's face is practically glowing and she looks far younger that her 54 years, which could have something to do with the warming tone of her hair. By asking for some warming colours, your skin can look lifted and much softer than if you were to go for a 'cool' colour.
Emma Thompson (54)
Wow, look at that volume! We love the way Emma's volumised her hair for a special occasion, a great tip for those of us with shorter hair in need of an update. Try a root-lifting product next time you style your hair, like John Frieda's Full Repair Protecting Root Lift Foam (£6.29), for some sexy oomph like Emma!
Dawn French (56)
Dawn's smooth and sleek bob is the perfect cut for her - it frames her face perfectly and hides any pesky wrinkles away under her fringe. It may look like a lot of effort to keep it this smooth, and if your hair is naturally unruly and wavy then this might not be the best cut for you, but otherwise a little stroke of the straighteners will smooth you out.
Sherrie Hewson (63)
Sherrie's hairstyle is just like her - bubbly and full of energy! A layered short style is great because you can glam it up for an evening out with some volume, or go for a more relaxed and casual look during the day. Highlights can really lighten up your face too, so ask your hairdresser which for highlights that would suit your colouring.
Lulu (65)
The great thing about Lulu's textured choppy style is that it can work with most hair types and all face shapes. A sweeping fringe is super flattering for anyone over the age of 60 and it's all about the layers, which Lulu herself has admitted to loving when she spoke to fabafterfifty.co.uk 'I think that whether you want short or long hair, layers are sexy and can give your hair movement. Layers are a great way to experiment without sacrificing length completely.'
Joanna Lumley (67)
If you find that your hair is feeling thinner because of a change in your hormones, then going too short can leave you feeling like your hair looks sparse. Many people think that as we get older we should cut our hair short without question, but sometimes leaving it longer, angled and layered cab soften features and make you look and feel years younger, just like Joanna!
Susan Sarandon (67)
Does your hair have a natural wave to it? Perhaps as you've aged it's become more wavy and unruly? If so... work with it! Trying to flatten and straighten hair that wants to curl can make it look dry and brittle, instead go for a flattering shoulder-length cut and encourage waves with some product, like The One Tames Your Tousles curl and wave creme (£2.99).
Sigourney Weaver (64)
As if Sigourney Weaver is 64! Now that really does make us feel old. A layered bob allows the perfect combination of less fuss with more sophistication because it can either be worn in a relaxed style during the day or glammed up in the eve. The layers will help hair that's thinned to look thicker too. Just wrap sections of hair around a curling wand to achieve Sigourney's look, and don't forget the shine spray!
Helen Mirren (68)
When it comes to looking glam into their 60s, no-one does it quite as well as Helen. The soft fringe and short cut is chic without being too trendy - perfect for someone who's had short hair for a while and needs a bit of an update. Helen has even admitted to cutting her own hair, telling the Express 'I simply put my hair in a ponytail and cut across the top; it creates natural layers and just falls right.' We're not sure we're brave enough to try that one!
Barbra Streisand (71)
How amazingly sleek does Barbra's hair look? And the colour is really flattering. A lot of women go blonde when they get older because it blends so well with those pesky greys and doesn't emphasise lines on your face as much as darker hair might. If you're in-between hair appointments and your greys are starting to show, try a root touch up like Clairol Nice n Easy Root Touch Up (£4.28).
Martha Stewart (72)
Martha has found that as she's got older, her hair has changed a lot. 'My hair is actually thicker now and grows faster than it did probably 25 years ago' she told allure.com. And she doesn't like hairspray either, which could explain her more relaxed and 'un-stiff' style. For control without the crispiness, go for the classic of all hairsprays when it comes to keeping you locks in place, L'Oréal Paris Elnett Satin Hairspray (£6.60).
Mary Berry (78)
As we get older our hair can get much finer, so keeping it long isn't always an option if we don't want it looking too wispy. Mary's soft and feminine style works perfectly for her, and the warm blonde tone really makes her blue eyes pop!
Judi Dench (79)
Judi is a firm fan of the cute pixie crop and we can see why – it suits her down to the ground! This style is a great way to update short hair if you're in your 70s and want a fresh new look. And it couldn't be easier to maintain, just add a little wax to give it texture and definition, like VO5 Texture Cream Wax, £3.99.
Where to next?
-Best under-eye concealers (for under £10!)