10 tips for online dating
Considering looking for love online? We've got 10 tips to help you find your Mr Right and master internet dating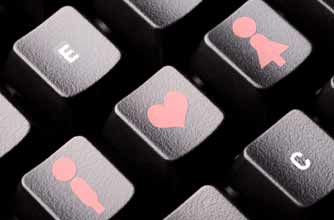 It can take a lot of courage to sign up to an online dating site. There's the fear of the unknown, the fear of putting yourself out there and the fear that things won't go to plan.
Getting bogged down by all those worries is enough to make anyone step away from the computer, but we say, why not just give it a go?
It's time to stop your umming and ahhing and take the plunge. The worst that can happen is that you'll meet a few unsuitable fellas but isn't it better to try on the off-chance you'll meet your Mr Right?
If you're getting back into dating for the first time in a while, have just gone through a messy break-up or don't have a clue where to begin, read our tips for getting started. It's not as scary as it sounds... honest!
Tell the truth
This might sound obvious, but there's just no point in telling fibs. We're not suggesting that you let the world know that you cut your toenails in bed or bleach your moustache but just don't tell any out-and-out lies!
It can be tempting to knock a few years off your age or a few inches off your waistline but remember, you want someone who likes you for you. And if your possible partner is going to be shallow enough to judge you based on those things, would you be interested anyway?
Photo or no photo?
Going through a break-up or being single for a long time can knock your confidence and you might not feel ready to be judged on your appearance.
However, the majority of people do want to know what a potential date looks like (wouldn't you?). And profiles with photos can get up to nine times as many responses as those without.
If you really don't want to put a picture up, or can't find one that you think does you justice, create your profile without to start with and see what response you get.
Next time you're out with friends or family take your camera along and get some other people to do some snapping. Looking comfortable, happy and relaxed is an instant winner and a million times better than you in the kitchen with the self-timer.
Use your spell check
A simple thing like a misspelt word or bad grammar could be enough to put someone off. As silly as it sounds, when all someone has to form an opinion of you is a few lines in your profile, every word counts for 10, and a spelling mistake could make someone judge you unfairly.
Don't use language you wouldn't normally to try and impress - be yourself. And give your profile the once over before you post.
Go at your own pace
Potential partners can sometimes be more forward via email than they ever would be usually. Because they're not saying things to your face, they think this gives them the right to be that bit more explicit!
While this can be flattering, you need to ask yourself: 'What would I do if someone said that to me in a bar?' If the answer is roll your eyes and turn your back, then it might be wise to give a similar response online.
But if he's scored highly in every other field, and you're put off by his lewd comments, why not say you're flattered, but maybe could he tone it down a bit?
You'll know from his response whether he wants a meaningless fling or he's just got a bit ahead of himself.
Keep your wits about you
Don't give out personal details on the first exchange or messages and wait till you feel like you've got to know the person a little before arranging to meet up or giving them your address or phone number.
Basically, just do exactly as you would do in real life. If you don't think that giving your number out is a big deal, then by all means go ahead, but if you're usually cautious, then remain that way when chatting online.
When meeting up with someone for the first time, drop a friend a text to let them know where you're going, just to be on the safe side.
Be open minded
It's easy to click through men's profiles and find fault with all of them, but try to be open-minded. If you have a very set 'type' consider trying someone new out for size - after all, it hasn't worked so far!
If you're taken with someone's profile but put off by one trait, be it their height or love of heavy metal music, consider sending a message anyway. You'll be able to tell after a few exchanges whether your first instinct was right and you can feel good about yourself because you didn't judge and gave someone a chance.
Try to enter into online dating with the right attitude. Don't expect too much too soon, and don't take it all too seriously.
Have a sense of humour
Keep messages between potential dates light-hearted and fun. Don't be scared about making jokes and flirting. You may feel like you need to say exactly what you are and aren't looking for early on, but why not just have a chat and see how it goes?
If you hit it off and decide to meet up, that's the time to be honest about your situation. Until then, keep the chat flowing and the flirting fun.
Report any problems
If you encounter any problems with people being rude or making you feel uncomfortable, then make sure you report them. The easy option is just to block the person so they can't contact you any more, but chances are they'll just do the same to somebody else.
Take the time to report the exact problem to the site's administrators. While it's good to have a laugh with online dating, people being offensive or hurtful are not acceptable and shouldn't spoil it for everybody else.
Keep on top of it
Try to log into your account and check your messages on a regular basis. We're not suggesting every half an hour but maybe at the end of your working day or when you you get up in the morning.
If you're slow to reply then people might mistake you for not being interested or deliberately leave it a while to reply to you. If you have missed someone's message, or haven't been able to get back to them for a while, be honest and say why.
There's no point worrying about seeming 'too available', you might miss a golden opportunity because you've left it too long. And a lot of dating sites are more likely to display your profile in results if you're seen as being an 'active' member.
Be yourself!
The most important rule of all. When someone doesn't know you it's tempting to try and pretend to be a perfect version of yourself, but few of us are good enough actors to carry it off successfully.
If you know you have some traits that have caused relationship problems in the past, then by all means try and tone them down, but what one person considers to be clingy, someone else might see as loving and thoughtful.
Surveys have repeatedly found a woman with confidence to be one of the biggest turn-ons for men and so that's the main thing you can work on to make online dating a success.
Whatever may have happened in your relationship past, it's made you the person you are today and instead of seeing broken relationships as a negative, look at the positive things they have given you - the ability to pick yourself up and get on with life, to recover from a broken heart and not give up on the chance to find love again.
So forget about faking a love of foreign film and sushi when you're a rom-com and curry kind of gal. Stick to your guns and you'll be more likely to find your perfect match.
Where to next?
- Read how Jason and Angie found love online - Test our seven great date ideas - Take our quiz to see if you're too choosy - Find out why there's a science behind who you're attracted to
Charlotte is founder and Editorial Director of The Forty-Five. The former NME Editor has written for goodto.com, The Face, Red and Marie Claire. With 15 years experience in journalism Charlotte has covered most bases when it comes to content people want to consume.