Conscious uncoupling: what's so different about Gwyneth & Chris' divorce?
Is this just a nice label for divorce or does following its ideals make for a more amicable break-up?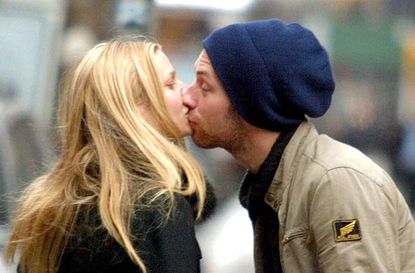 After 10 years of marriage and two children together, Gwyneth Paltrow and Chris Martin have decided to go their separate ways in a move they've called 'conscious uncoupling'. But what do we think to this seemingly soft approach to divorce? Here we explore whether conscious uncoupling actually has some learnings to be had, or whether it's just a nice name for divorce...
Gwyneth's received a lot of stick in the past for her new-age approach to life. Her simple, yet rather strict, approach to healthy eating and exercising in the pursuit of ultimate health and happiness has been viewed by some as a little bit 'hippy'. And we suspect her approach to her split from her husband of 10 years, Chris Martin, will have many thinking this is just another idealistic label for something that really is just a load of old cobblers. But are there principles in 'conscious uncoupling' that are worth considering if you're going through a divorce or separation?
So what is 'conscious uncoupling'?
At the forefront of Gwynnie and Chris' minds seem to be their two children, Moses, 7, and Apple, 9. And it seems that it's this (and indeed this can be said of many marriages) that's the reason the couple are so keen to make their separation a positive thing. In the statement on Gwyneth's website Goop this morning, revealing their separation, the pair have cited their wish to continue co-parenting for their 'two incredibly wonderful children.'
Further down the page conscious uncoupling is explained by Gwyneth's very own lifestyle coach Dr. Habib Sadeghi & his wife.
The doctors explain that ultimately, the rise in divorce rates in our generation can be put down to modern-day life expectancy. Human beings just weren't meant to spend as much time married to one another as we do in today's society. In the past, your life expectancy may have only seen you live until your mid-forties, whereas today, on average, men will live to see 74, and us ladies can expect to reach around 81.
They say: 'Modern society adheres to the concept that marriage should be lifelong; but when we're living three lifetimes compared to early humans, perhaps we need to redefine the construct. Social research suggests that because we're living so long, most people will have two or three significant long-term relationships in their lifetime.'
OK, so granted, we are living far longer and perhaps that does add more pressure for us to stay together for longer than our earlier ancestors. Then again, we can think of plenty of people in our life, parents and grandparents for example, who have had long and happy marriages, spending 50 or 60 years of their life married to the same person.
The doctors go on to say that a successful relationship doesn't have to be defined by how long it lasted, or if, indeed, it lasts literally until 'death do us part'. And they remind us that many people who are still married are not necessarily happy or still getting fulfilment from the marriage.
'Sooner or later, the honeymoon ends and reality sets in. This is usually when we stop projecting positive things onto our partners and begin to project our negative issues on to them instead.'
The doctors state that this can cause a back-and-forth style aggravation that ends in both partners feeling unhappy. The shame or guilt of a failing marriage only then seeks to worsen these feelings.
How does conscious uncoupling differ from a standard divorce?
The couple let go of feelings of guilt or failure about not making it 'til death do us part'.


They can look upon their marriage as a positive chapter in their life, which has now come to an end, rather than obsess over the fact that they have 'broken their vows'.


They focus instead on the beginnings of a new relationship together, rather than the ending of their time as married partners.


As a result, they let go of the negative energy and instead the couple can unite together to be better co-parents for their children.
Can conscious coupling really work?
We can certainly see some positives to this approach to separation. It's nice to think that we could accept that by separating we could actually work better as a couple, by realising that being trapped together is what caused our negative energy. However, we're still a little unsure what the guidelines for conscious uncoupling entail, for example, what happens if one party doesn't want to separate, or one has cheated and therefore left behind feelings of anger and resentment in their partner? We're not so sure...
What the experts say...
We asked relationship expert Dr Pam Spurr (Twitter @drpamspurr (opens in new tab)) what she thought to conscious uncoupling and she had this to say: 'When couples are separating or divorcing it's a good thing for them to get creative and try and find what works for them. There's no set formula for making a break-up go more smoothly and finding your own way can be helpful.
'But I think it can create problems when a couple starts using jargon like 'conscious uncoupling' to describe their situation. That's because it's important they communicate on a level they're used to and not start using phrases - and even psychobabble - that can confuse their all-important communication.
'It's one thing for a relationship expert or counsellor to use therapeutic jargon and explain its meaning to a couple. But it's a slippery slope to thinking you can be your own counsellor when you start using it yourself.
'The positive side of 'conscious uncoupling' is its aim to help a couple stay 'mindful' (another one of those terms) about their behaviour as they separate from each other. The point is to be aware of keeping calm and constructive and taking the 'hot' emotions out of the break-up process.'
Divorce Coach Sara Davison (opens in new tab) (Twitter @SDDivorceCoach) on the other hand says: 'I think conscious uncoupling is a great term, I love it. Divorce is a harsh word which people tend to shy away from, expecially when there are children involved and this seems to be a much gentler way of talking about it.
'The 'conscious' part of the term shows that they've really thought about it, they've tried working at it, given it one last shot and come to the decision that it's not right.
'The 'uncoupling' part is a much softer, more humane way of talking about separating. The way you talk about divorce can really affect your feelings about it, and I think by using a a gentle term like 'uncoupling' it seems less harsh. This will be encouraging for the children too as they will see that mummy and daddy still love each other, but they just aren't living together anymore. I think Chris and Gwyneth are being great role models to their kids by showing them that it can be an amicable process.
'For them to take that approach and somehow be able to support each other through such a tough time is great.'
Relate counsellor Denise Knowles said: 'Every couple will have different ways of approaching separation or divorce. Divorce may have very different meanings for them based on their beliefs and attitudes and this is why it important for couples to fully understand what has brought them to this point. Understanding this can help a couple to make informed decisions about the way forward for their family, as parents and as individuals. Visit Relate (opens in new tab) for more support on coping with separation, including advice on how to tell your children.'
Perhaps consciously uncoupling is the right way for Chris and Gwyneth, but we're not sure it would work for all couples. What do you think? A bunch of new-age mumbo jumbo or some sensible principles here? Let us know in a comment below.
Where to next?
Why are couples sleeping apart?
Gemma Chandler is a lifestyle writer specialising in kids' educational media across a range of topics including nature, history, science and geography across digital, print, social media and video channels. She joined Creature & Co. at 2015, shortly becoming Digital Editor of National Geographic Kids magazine.