Cuba Gooding Jr. files for divorce from wife Sara Kapfer after 22 years of marriage
The couple share three children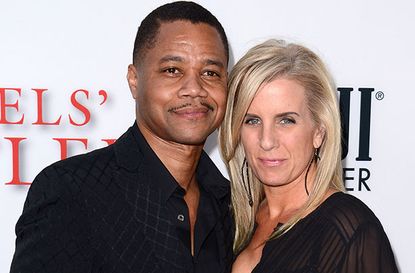 Actor Cuba Gooding Jr. has filed for divorce from his wife of 22 years, Sara Kapfer, according to reports.
American site TMZ revealed that the star has asked for a divorce from his wife, three years after she legally filed documents to separate from her actor husband in August 2014.
The site also reports that Cuba is hoping to get joint legal and physical custody of Piper Gooding, the pair's 10-year-old daughter (one of three children the couple share). He's also offered to make the split easier by offering spousal support.
Cuba, 49, and Sara were high school sweethearts, and married on 13th March 1994.
The couple have kept their private life largely away from the press, although stepped out recently to attend The Weinstein Company and Netflix's Golden Globes party at the Beverly Hilton Hotel.
During an appearance on The View, the O.J Simpson star had gushed about his other half, telling viewers that he and his wife have highs and lows just like many other couples but always managed to overcome them.
'I'm lucky,' Cuba told co-host Suze Orman. 'Oh I wanna kill her sometimes and she puts up with me.'
Cuba and Sara pictured at The Weinstein Company and Netflix Golden Globes party on 8th January this year
'When you do films, you're away from the family, but I can still fly them in or fly home to see them, so... my wife and I... have this rule - never go more than three or four weeks without seeing each other.
'I got a wonderful lady that knows how to run the household even when I'm not there. (And) we're just blessed with wonderful kids', he added.
The star went on to explain how the couple had managed to remain close since Sara's file for separation in 2014 during an appearance on The Steve Harvey Show.
'Officially I'm still married,' he said.
'It's just you know how some marriages go. Sometimes you take a break or two. All I'm saying is my life is what it is right now.
'I took her to see a movie the other day. We've got kids man, we've got to keep this together.'