Football star Gareth Bale proposes to long-term girlfriend Emma Rhys-Jones
Lovely news for the couple, who have two daughters together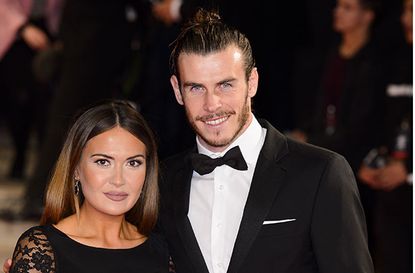 Lovely news for football star Gareth Bale, who's set to marry his long-term girlfriend Emma Rhys-Jones after he popped the question - and she said yes!
The Real Madrid and Wales sporting hero, who's said to be the world's most expensive footballer - costing £85million - proposed to girlfriend Emma during a recent holiday in Spain on the Balearic Islands.
It seems Gareth couldn't wait to announce the happy news to his fans, taking to Instagram to post pictures of the couple together and the caption: 'She said yes!! This is a birthday weekend I won't forget for a long time 🎉💍 Celebrated with all our closest family and friends 🎉'
Fans were quick to pass on their congratulations, with one writing: 'Gareth, you are a wonderful person and I wish you and your future wife all the best!' and another adding: 'Congratulations!!! You'll be a great husband ❤️❤️❤️❤️'
The proud star posted three photos, with Emma holding up her hand to show off her engagement ring alongside her future husband and the couple's closest friends.
Emma holding baby Nava Valentina at the Wales Football Team home coming at Cardiff City Stadium
Gareth and Emma, who have two children together - Alba Violet, three, and Nava Valentine, three months - are childhood sweethearts. They met at school in Cardiff and now live in Spain together with their two children, where Gareth plays football.
Although residing in Spain, both of their children were born in their native Cardiff. Gareth and Emma welcomed their first daughter Alba Violet in October 2012, and Nava Valentine (opens in new tab) in March 2013.
Emma with Gareth's mother Debbie and daughter Alba, during the Euro 2016 match between Wales and Northern Ireland
Gareth, 27, was an instrumental player in his country's Euros efforts last month, helping his team to their first major tournament semi-final.
So it comes as no surprise that he wanted to take some time off to spend with his family, and took the opportunity to propose to his girlfriend with what appears to be a very impressive ring. Congratulations guys!