Fitness guru Kayla Itsines announces she's engaged – and shows off her massive diamond!
Congratulations are in order for fitness guru Kayla Itsines – who has announced her engagement to long-term partner Tobi Pearce.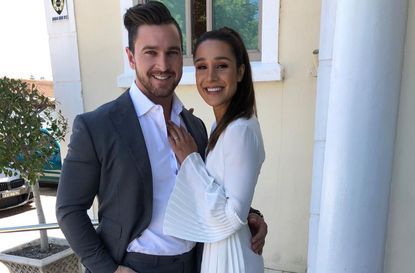 Congratulations are in order for Instagram star Kayla Itsines – who has announced her engagement to long-term partner Tobi Pearce.
The diet and exercise guru revealed on social media that she had said 'yes' to her 'best friend' after he proposed in front of her family last week.
Showing off her incredible diamond ring, which features a modern square stone and white gold band, alongside a series of loved-up snaps of the pair, Kayla said: 'We have lived together for over four years, we have two beautiful dogs, an amazing business... and to top it off... Tobi got down on one knee last week and asked me to marry him....in front of my family!'
'I obviously said YES to spending the rest of my life with my very best friend. We have been together for 5 and a half years now, and I cannot wait for the many years and memories to come .... I love you so much', she added.
Fans of the couple were quick to congratulate the pair, with one writing: 'Stunning ring to match a stunning couple. Love to see romantic stories'.
Another said: 'Omg I've been waiting for this moment for YEARS ! Congrats !! I'm so happy for you guys !'
A third added: 'Yeaaah congratulations Kayla!! Can't wait to see you in your bride dress'.
And a fourth said: 'So beautiful couples I hope you live happily ever after. Congratulations for the engagement'.
While a fifth added: 'Wow amazing congrats Love you , ur such an inspiration to us'.
Kayla has amassed 9.4 million Instagram followers and is highly sought-after for her fitness tips and diet plans which can result in quick results with people losing weight fast.
She posts daily HIIT workouts to her social media channels and keeps her followers informed of what she rates as the best body transformation tools.
Her Bikini Body Girls (BBG) fitness program is followed by women around the world who often show off their amazing results online.
Kayla's new fiance Tobi is the founder and CEO of SWEAT - the worlds largest women's fitness community.
A Freelance Writer and Content Editor, Jenni has been working on the women's lifestyle team at TI-Media on and off for over three years. She writes about your favourite celebrities and TV shows so you never miss an update. Jenni also writes beauty news and features - so for all of your skincare and make-up needs, drop her a line.