A fifth of parents break-up in the year after having a baby
New research has found a fifth of couples break up during the 12 months after welcoming their new arrival.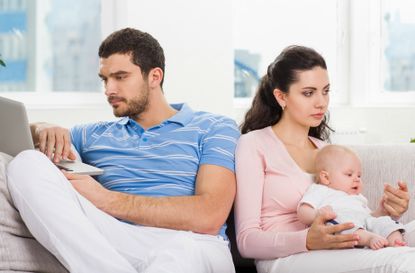 While having a baby is often portrayed as a 'happy ever after' scenario in many romantic stories, the reality of becoming parents can put a huge strain on relationship.
New research has found a fifth of couples break up during the 12 months after welcoming their new arrival. Among the most common reasons for separating were dwindling sex lives, a lack of communication and constant arguments.
Some couples are lucky and, despite more than one in 10 resorting to a trial separation, they later got back together.
But for those with deeper rooted issues, such as a quarter or those who admitted they had problems in their relationship prior to the baby's birth, things didn't get easier.
Read more: Co parenting: how to make shared parenting work after a separation (opens in new tab)
Regular arguments, one partner being less involved in the care of the baby, and having to adjust to newfound responsibilities seemed to cause irreparable problems of those surveyed.
Siobhan Freegard, founder of parenting site Channel Mum (opens in new tab), who part conducted the research, said: "Forget the seven year itch - it's six months of sleepless nights that are most likely to prise apart new parents.
"While it's widely assumed a new baby brings a couple closer together, this isn't always the case. Sleepless nights (opens in new tab), less time for intimacy and added responsibility can test even the most committed relationships."
She also stated that whilst most parents-to-be prepare financially for their new arrival they seldom consider emotionally preparing the relationship too.
This comes as more than 60 per cent of parents admitted to feeling unprepared for the huge impact having a baby would have on their life.
Half of couples reported arguing more frequently with lack of sex or feeling pressured into sex one of the most common triggers for those rows.
The thing is, that no one side ever seems to blame. For women, they admitted that their body confidence seemed to plummet. Whilst 24 per cent of men said they felt completely side-lined as mum favoured the baby.
As a result of the study The Baby Show (opens in new tab) has joined forces with Channel Mum to offer advice on how to prepare for and overcome the challenges that parenthood brings.
Zoë Bonser, show director at The Baby Show added: "It's disheartening to see so many couples break up in the first 12 months of parenting – what should be one of the most exciting times in their lives.
"There's no doubt it's stressful with the change in sleep patterns, routines and getting used to there being a third person around that you have to care for all the time. The most important thing is to keep talking and recognise how you're both feeling and ensure you make time for each other, as well as your baby."
Sharing night-feeds, making time for regular sex, having time-out with friends and regular date nights were some methods used to maintain a happy relationship.
Calling on family and friends for additional support is also a way to help alleviate stress.
But unfortunately, almost one fifth of parts admitted they didn't implement any measures to protect they relationship during those early months.
I'm Emma, a features writer for some of the nation's most popular women's magazines. Think Woman, Woman's Own and Chat Magazine. Now I'm expanding my remit and contributing regularly to GoodToKnow – aren't you excited? I'm a recent graduate from the University of Portsmouth where I obtained a first class degree and my gold standard NCTJ diploma. Since then I've worked exclusively in magazines starting on a luxury travel mag based in Dubai. (Though I worked from my sofa in Kent, so it was slightly less glam than you might imagine.) In 2018, I started working with TI Media and it's been amazing to finally see my name in print. Outside of work I enjoy the arts. I freelance for the theatre section of EntertainmentFocus.com and when I'm not writing I'm attending multiple dance lessons. Aside from writing and performing (a generous term perhaps, but just roll with it) you can find me binging the latest series' on Netflix, fan-girling over the latest Marvel movie or planning my next trip abroad. That's pretty much all you need to know about me, but if you'd like to know any more you can get a peek behind the curtain by following me on
Twitter
or
Instagram
.