Jada Pinkett Smith and Will Smith no longer celebrate their anniversary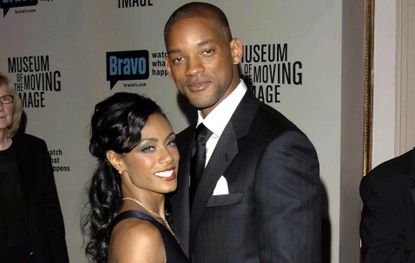 Jada Pinkett Smith and Will Smith, who married on New Year's Eve in 1997, have been together for 21 years.
The Hollywood couple and their relationship is in the spotlight again after Will Smith slapped Chris Rock at the Oscar Awards ceremony for a joke about his wife Jada.
The two are a truly celebrated Hollywood couple, and they're widely praised for being truthful with fans about the complexities of marriage after more than two decades together.
However here is one truth about their marriage, that may (or may not) surprise you: they don't celebrate their wedding anniversary anymore.
The couple, who tied the knot on New Years Eve in 1997, have their own reasons for not celebrating the occasion, with Pinkett Smith divulging more on a new episode of her Facebook Watch show 'Red Table Talk':
Will Smith reveals he 'broke down in tears' after realising he'd married the wrong person
'We don't really celebrate that day, you know what I'm saying, anymore in that sense, because the context of our union is totally different', with Jada then referring to their marriage as 'more of a life partnership.'
Jada also revealed that sometimes she isn't even with her husband on the day, revealing that Will likes to enjoy outdoor pursuits on New Years Eve whilst she would rather stay at home:
'Usually Will on New Year's likes to be in an adventure in the world somewhere.'
She continued: 'There's no telling where he's gonna be! And I like to be inside. I don't want to be out in the world...He now has the freedom to go have an awesome adventure of some kind.'
As well as no longer celebrating wedding anniversaries, Will Smith revealed to fans in June that the couple don't even refer to each other as 'married' anymore.
On an episode of Tidal's 'Rap Radar' podcast, Smith discussed their reasoning behind the decision: 'We refer to ourselves as 'life partners,' where you get into that space where you realize you are literally with somebody for the rest of your life'
Jada Pinkett Smith reveals she was left 'devastated' when son Jaden asked for emancipation
'There's no deal breakers,' the actor added. 'There's nothing she could do ― ever ― nothing would break our relationship. She has my support until death and it feels so good to get to that space.'
Do you think that forgoing wedding anniversaries could be the key to a happy, long-lasting union? Head over to our Facebook page and share your thoughts with us!
Parenting advice, hot topics, best buys and family finance tips delivered straight to your inbox.
Freelance Lifestyle Writer
Niamh McCollum is a freelance lifestyle writer who has written for Future titles GoodTo and Marie Claire UK, plus the Irish Independent. The Dublin-based journalist specialises in stories
affecting families - from health updates, to the freshest parenting debates and celebrity announcements.