Happiness expert warns single women NOT to get married or have children
Happiness expert Paul Dolan says women are happier without husbands or children.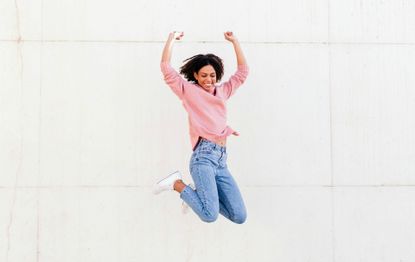 Happiness expert Paul Dolan says women are happier without husbands or children.
Most of us grow up assuming that 'happily ever after' will mean marriage and kids. But according to behavioural scientist Paul Dolan, the evidence for this doesn't stack up, at least not for women.
Paul, who works as a professor at the London School of Economics, spoke out about the myths around marriage and happiness at the Hay Festival this weekend.
While researching his new book, Happy Ever After, Paul compared the happiness levels of married, never-married, divorced (opens in new tab), separated and widowed adults. And the most striking finding? 'The healthiest and happiest population subgroup are women who never married or had children.'
When their partner was in the room, the married people claimed to be happier. But according to Paul, they changed their tune when he or she wasn't around. Or as he put it: 'When the spouse is not present: f****** miserable'.
But it wasn't all bad news – at least not for men. 'If you're a man, you should probably get married,' he advised. 'If you're a woman, don't bother.'
Men benefit from marriage because 'they take less risks, earn more money at work and live a little longer,' he explained. 'She, on the other hand, has to put up with that and dies sooner than if she never married.'
Women were also more likely to develop physical or mental health conditions in middle age if they were married, he explained.
So is it time we stopped judging our lives by the Disney princess yardstick of happiness and rewrote that tired old 'poor single woman' narrative?
Yes, says Paul: 'You see a single woman of 40, who has never had children: "Bless, that's a shame, isn't it? Maybe one day you'll meet the right guy and that'll change."
'No, maybe she'll meet the wrong guy and that'll change. Maybe she'll meet a guy who makes her less happy and healthy and die sooner.'
Food for thought.
Samantha is a freelance writer at Goodto who has been with team since 2019. Initially trained in psychology, she specialises in health and wellbeing and has additionally written for magazines such as Women's Health, Health & Wellbeing, Top Santé, Healthy, Refinery29, Cosmopolitan, Yahoo, CelebsNow, Good Housekeeping and Woman&Home.