Ulrika Jonsson has announced that she is divorcing her third husband Brian Monet
The Swedish presenter admitted she's 'not where she thought she would be'.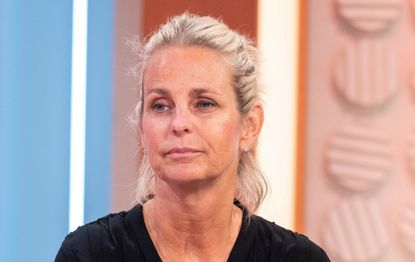 (Image credit: Ken McKay/ITV/REX/Shutterstock)
Swedish presenter Ulrika Jonsson says she's 'not where she thought she would be'.
51-year-old Ulrika had been married to Brian, a 50-year-old advertising executive, for 11 years. The couple have a 10-year-old son called Malcolm together.
'You can only resolve problems with another person,' she told Best magazine. 'If I'm honest, getting another divorce aged 51 is not where I thought I would be, so who knows? I just don't know what shape my future will take.'
Ulrika revealed that she couldn't even 'contemplate' dating again yet. 'Then again, I've said I will never marry again before, and I did,' she added.
She also spoke about life in the public eye, saying, 'I've been content being out of the limelight. I haven't craved it but, that said, I do need to live.'
Last summer, Ulrika reached out to her followers on Instagram, writing: 'Yesterday was a tough day. Dealing with a lot of things. And yes, I know there are always people worse off. But that's not how it works. Please don't feel obliged to leave kind comments – I'm not fishing for sympathy. You're a kind lot, I know.'
We don't know exactly when Ulrika and Brian split. In October, Ulrika opened up (opens in new tab) about how crucial her husband and children's support had been as she went through the menopause.
As well as Malcolm, who is her youngest child, the mum-of-four has a 24-year-old son called Cameron with first husband John Turnbull, an 18-year-old daughter named Bo from a relationship with Marcus Kempen and 14-year-old Martha from her marriage to second husband Lance Gerrard-Wright.
Ulrika hit back at trolls who labelled her 'irresponsible' for having four children with four different men.
'Having a child isn't a throwaway thought,' she said. 'It's the absolute opposite. A child is a commitment for life – much more of a commitment than marriage. That's just a piece of paper you can tear up or dissolve.'
Samantha is a freelance writer at Goodto who has been with team since 2019. Initially trained in psychology, she specialises in health and wellbeing and has additionally written for magazines such as Women's Health, Health & Wellbeing, Top Santé, Healthy, Refinery29, Cosmopolitan, Yahoo, CelebsNow, Good Housekeeping and Woman&Home.