'All marriages have their moments' Tess Daly opens up about her relationship with Vernon Kay
The Strictly presenter said it's a 'work in progress'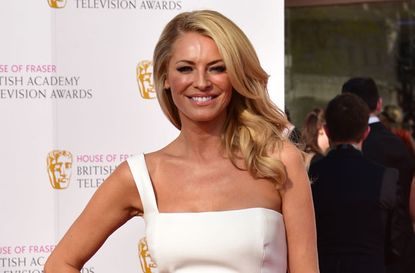 Tess Daly has opened up about her marriage to Vernon Kay, saying it's a 'work in progress'.
The Strictly presenter has been married for 14 years, and now she's opened up about her relationship with her husband and father of her children who has hosted This Morning (opens in new tab).
Speaking to The Times, Tess admitted that they have problems just like any other couple, and said their marriage is 'always a work in progress'.
'All marriages have their moments. It would be unrealistic to say they don't.
'Marriage is always a work in progress. Vernon and I are just people at the end of the day,' she said.
The interview was a rare insight for fans, as Tess has refrained from speaking publicly about her relationship since Vernon was accused of sending illicit messages to Page 3 model Rhian Sugden - rumours which he later admitted to be true.
The mum-of-two, who's been presenting Strictly Come Dancing since 2004, tied the knot with model-turned-TV star Vernon Kay in 2003, after dating for two years.
The pair welcomed their first child, Phoebe, a year later, and a second baby girl called Amber followed in May 2009.
The TV star also confessed that she doesn't feel like a celebrity when she's on TV: 'I am not on the telly, I don't feel "showbiz". I am just a busy working mum.'
Speaking about the impact motherhood had in her life, Tess says that it's changed her relationship with her own mum too.
'Becoming a parent deepened my relationship with my mother. It was only then that I grasped just how much my parents loved me. I wish my dad could be around to meet my daughters. He would have loved them,' she said.
Earlier this year, Tess also spoke about the possibility of working with her husband again, after the two presented BBC One singing contest Just The Two Of Us.
'We worked together in the past and it was fun. It's funny because when you are at work you've got to curb the domestics. You've got to think, "Hang on a minute, I'm not at home".
'He's very good at live television, and very relaxed. I enjoyed working with him because he is a safe pair of hands as a live broadcaster.
'That was wonderful, and you talk about chemistry, well, you don't have to fake chemistry to someone who you come home to every day of the week.'