Sunday Brunch star Tim Lovejoy splits with long-term girlfriend Tamsin Greenway
Sad news for the breakfast TV presenter...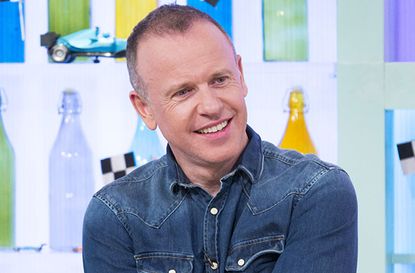 Sad news for weekend TV presenter Tim Lovejoy, after it's been announced that he's split with long-term partner Tamsin Greenway.
The TV host, who presents Sunday Brunch alongside chef Simon Rimmer, has confirmed he's parted ways from netball player Tamsin, the mother of one of his three children, after four years together.
Tim's agent revealed the news in a statement which read: 'Tim and Tamsin have sadly split up. They have a daughter together who remain their priority.'
According to the Mirror, a source added: 'They had been on and off for a while, and they tried to make it work. It's really sad but it didn't work out.'
The source added: 'They are still the best of friends and have a lot of shared memories together. It's a shame they couldn't make it work.'
Tamsin is an English netball player and member of the England national netball team
The couple, who first got together in February 2012, have three-year-old daughter Jamie together. TV star Tim, 48, also has twin girls - Grace and Rose - from his previous marriage to Jade Lovejoy. Back in 2013, Tim spoke openly about the importance of splitting children's time evenly between parents after a divorce, in an article for the Mirror.
'When I got a divorce it was hard enough knowing that my marriage had ended, but I also realised that my relationship with my twin girls Rose and Grace, who are now 10, could never be the same again', he wrote.
'My family had been broken down the middle. It's been a difficult eight years and there have been plenty of problems, but today I have a hands-on role in their lives.
Tim was once named Britain's 49th most eligible bachelor
'I've got a great relationship with my kids and I have 50/50 access. My ex-wife and I have a shared parenting agreement. I don't have any problem with that.'
Tim and Tamsin, 33, welcomed daughter Jamie in May 2013, with Tim announcing the happy news in a tweet.
He wrote at the time: 'Tamsin Greenway has put in the best performance of her life. Our baby girl Jamie Jeane Lovejoy arrived this morning. They're both well.' Since news of the split, both Tim and Tamsin have remained quiet, with no comments made on either of their Twitter feeds.
Tim alongside his Sunday Brunch co-host, Simon Rimmer
Tim has been co-presenting Channel 4's live Sunday Brunch show, which features cookery and interviews with celebrity guests, since March 2012 alongside chef Simon Rimmer.
The dad of three previously produced Channel 4's The Big Breakfast, as well as presenting Soccer Am and BBC2 show Something For The Weekend, and he's even written a book - Lovejoy on Football.