Top 20 romantic film moments
Everyone loves a good epic love story so we decided to count down the top 20 most romantic film moments of all time - from Richard Gere and Julia Roberts in Pretty Woman to Patrick Swayze and Jennifer Grey in Dirty Dancing, see which movie love scene made our number one.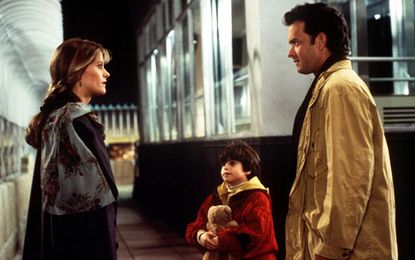 Everyone loves a good epic love story so we decided to count down the top 20 most romantic film moments of all time - from Richard Gere and Julia Roberts in Pretty Woman to Patrick Swayze and Jennifer Grey in Dirty Dancing, see which movie love scene made our number one.
Everyone loves a good epic love story so we decided to count down the top 20 most romantic film moments of all time - from Richard Gere and Julia Roberts in Pretty Woman to Patrick Swayze and Jennifer Grey in Dirty Dancing, see which romantic movie scene made our number one.
20. Sleepless in Seattle
Would you play it safe or take a risk to find your soulmate like Annie? Meg Ryan has a seemingly perfect man ready to take her down the aisle yet she heads to the top of the Empire State Building for the chance to meet her soulmate. A great film about love lost and love found with Tom Hanks playing unlucky in love Sam.
Romance factor: Heartwarming to see two strangers fall totally in love.
19. P.S. I Love You
The film adapted from Cecelia Ahern's best selling novel is an absolute tear jerker from start to finish. Not only does Holly's husband Gerry die of cancer at the start but he then leaves her behind 12 incredibly heartfelt letters ending each with the words 'P.S I Love You' .
Romance factor: Hilary Swank and Gerard Butler at their most adorable.
18. Moulin Rouge
Who can forget Ewan McGregor and Nicole Kidman's incredible performances as glam courtesan Satine and poor lowly Christian in Baz Luhrmann's Moulin Rouge? Just the soundtrack alone gives us goosebumps featuring the classic songs Come What May and Your Song.
Romance factor: Who'd have thought singing to each other would be so romantic?
17. Jerry Maguire
Jerry Maguire might not seem like the most romantic of films at first but after hearing the now-famous romantic dialogue between high-flying sports agent Jerry (Tom Cruise) and his homely accountant Dorothy (Renee Zellweger), where he says the words 'you complete me' to which she replies with 'you had me at hello', it deserves a spot on this list.
Romance factor: Pretty gushing stuff straight from the heart.
16. 10 Things I Hate About You
Seeing bad boy Heath Ledger show off his soft side (and vocal talents) while singing 'Can't Take My Eyes Off Of You' to Julia Styles will live with us forever. The way he skillfully avoids the security guards while running around the stands makes it all the more sweet.
Romance factor: We wish someone would serenade us like that.
15. An Officer and a Gentleman
Richard Gere became idolised as a living knight in shining armour after his role in An Officer and a Gentleman. The scene where he crosses the factory floor to sweep Debra Winger off her feet in his sparkling white naval uniform makes every woman collectively sigh and wish it was her in his arms.
Romance factor: Oh to be swept off your feet by a man in uniform.
14. Love Actually
While we may have to question how appropriate it is to find your new husband's best friend declaring his undying love for you on your doorstep, we admit we love Mark's hand-written boards to Juliet - especially the one saying 'to me you are perfect' - suddenly hearts melt everywhere.
Romance factor: Undeniably romantic even if they didn't end up together.
13. Casablanca
Ingrid Bergman and Humphrey Bogard's romance has to be one of the most beautiful and heart-breaking on-screen love stories ever. The star-crossed lovers reunite after years apart in Casablanca but wait, she's married. The moment where Humprhey's character Rick risks his own life and makes the ultimate sacrifice giving-up Isla to Victor, left generations of lovers with the phrase: 'We'll always have Paris'.
Romance factor: Totally selfless and completely heartbreaking
12. Four Weddings and a Funeral
Love was certainly all around for Hugh Grant and Andie MacDowell in Four Weddings and a Funeral. The Brit classic saw the pair finally embrace in the pouring rain on Hugh Grant's doorstep paving the way for a generation of romantic comedies to follow.
Romance factor: Somehow kissing in the rain always makes it seem more romantic.
11. Gone With The Wind
This list wouldn't be complete without one of Clark Gable and Vivien Leigh's romantic moments from the Oscar-winning Gone With The Wind. The most memorable must be where Rhett sweeps Scarlett off her feet and carries her up the red velvet staircase.
Romance factor: Sometimes you just can't beat a good old romantic classic.
10. Never Been Kissed
It's not just the men who make grand sweeping gestures of their love in romantic films - Josie Geller's character played by Drew Barrymore bucked the trend by inviting the hunky Michael Varton to giver her her first kiss during a school baseball game. The long-awaited kiss finally happens to the sound of Don't Worry Baby by the Beach Boys.
Romance factor: The stuff dreams are made of.
9. Walk The Line
Reese Witherspoon and Joaquin Phoenix's performances in the Johnny Cash biopic Walk The Line were so impressive they both received an Oscar. Throughout the film Johnny tries numerous times to woo the married Jane, continuously asking 'will you marry me' but the final moment where she gives in and says yes in the middle of a duet makes it one of the most sweet and satisfying ends to a film ever.
Romance factor: It just shows that persistence pays off.
8. Bridget Jones' Diary
The ultimate unlucky-in-love single girl love story ends with one of the loveliest of moments. Bridget, played by Renee Zellweger finally sees the light and dumps Hugh Grant but then argues with her true love Mark Darcy (Colin Firth) believing him to be gone for good. But clad in a jumper and pyjama bottoms she dashes after him across London through the snowy night until suddenly he's there. The moment he puts his coat around her and kisses her is one of the classic rom-com moments of all time.
Romance factor: We'd like our very own Mr Darcy please.
7. Romeo and Juliet
If ever there were two symbols of human love it's Shakespeare's Romeo and Juliet. Leonardo DiCaprio and Claire Danes play the modern-day star-crossed lovers who have to hide their love from their feuding families until their tragic deaths at the end. But despite knowing the outcome, their all-encompassing love for each other is visible from the moment they first meet through a fish tank at a costume ball.
Romance factor: Love conquers all, even against the odds.
6. Pretty Woman
From a business arrangement to finding true love, Pretty Woman is one of the ultimate romantic films showing how even the most opposite of people can find happiness together. The moment Edward Lewis (Richard Gere) finally realises he does in fact want to be with Vivien (Julia Roberts) causing him to conquer his fear of heights by climbing her fire escape, presenting her with roses and asking what happens next is like something straight from a fairytale.
Romance factor: A true Cinderalla story.
5. Breakfast at Tiffany's
We loved watching the quirky Holly Golightly fall in love with struggling writer Paul 'Fred' Varjak. The moment where Paul decides to have the Crackerjack ring engraved at Tiffany's as a present for her sets the water-works in motion and keeps them going until the Holly finally comes to her senses and runs to Paul in the rain for their much-awaited kiss in the rain.
Romance factor: A totally charming love affair.
4. The Notebook
Arguably one of the most romantic films of the last 10 years, The Notebook sees young lovers Noah and Ally (Ryan Gosling and Rachel McAdams) separated due to their class differences only to be reunited years later when Ally's engaged - cue falling in love all over again! The kissing scene in the rain is definitely not to be missed.
Romance factor: Young love at its best.
3. Ghost
Despite the tragic end to the love between young stockbroker Sam (Patrick Swayze) and girlfriend Molly (Demi Moore) Ghost deserves it's place on the top romantic movie moments of all time. The moment when Sam reappears at the end, standing on a path made of clouds to say his final goodbye to Molly is undoubtedly one of the most tear-inducing romantic moments ever.
Romance factor: A film that shows true love does indeed last forever.
2. Dirty Dancing
Dirty Dancing will surely go down as one of the most romantic films ever to be made. The line where Swayze says 'Nobody puts Baby in the corner' is one of the most-quoted lines in movie history but it's the moment where he struts into the room wearing a leather jacket to rescue Baby (Jennifer Grey) from her controlling parents and dance together that really pulls on our heartstrings.
Romance factor: Girls will be dreaming of Patrick Swayze's smooth moves for years to come.
1. Titanic
Of course the winning romantic movie moment of all time has to be Jack and Rose's embrace on the bow of the Titanic. In what has become an iconic image set to the infamous Celine Dion classic My Heart Will Go On, the unlikely-lover's passionate kiss is so heart-wrenchingly romantic and all the more so because we know their time together is so short.
Romance factor: Completely off the scale.
Loved this? Our friends at Now Magazine have rounded up their most memorable TV and film kisses ever (opens in new tab). Take a peek!
Where to next?
- How to kiss, Hollywood style
- Celebrity marriage proposals