Kissing tips: How to get romantic Hollywood style!
Remember the movie kisses that sent shivers down your spine? Get some of that on screen passion in your relationship with our top kissing tips!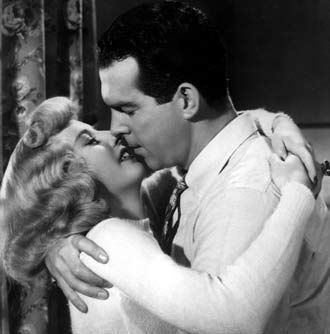 (Image credit: Rex Features)
Remember the movie kisses that sent shivers down your spine? Get some of that on screen passion in your relationship with our top kissing tips!
When was the last time you and your fella looked at each other like this? The chemistry between Humphrey Bogart and Ingrid Bergman in Casablanca is incredible even when they're not kissing! Do it yourself: Relax with your man over a drink and start flirting! Maintain strong eye-contact with him and give him long, lingering looks. Try subtle 'come to bed eyes' and you'll have him utterly mesmorised. It's only a matter of time before you'll have a passionate kiss!
Kissing tips - The full on pash!
Make your kisses extra erotic by using your whole body to embrace your fella! Check out the way film noir femme fatale Barbara Stanwyck squeezes her man and how tightly he holds her back. Sizzling!
Do it yourself: Go in for a kiss with your man and slowly pull him closer and closer. Wrap your arms around his shoulders and press your whole body against him. As you kiss, you'll feel him getting increasingly turned on and passion soaring!
Kissing tips - Role play
You only have to look at this picture to get butterflies in your stomach! An Officer And A Gentleman has to be one of the hottest romantic movies, with Richard Gere stealing our hearts in his sexy uniform.
Do it yourself: There's no reason your man can't be an officer too - or whatever turns you on! Get him to dress up and get into character. Hold out on that kiss until you can't hold it anymore!
Kissing tips - All over body kisses
Don't make kissing just about lip service, take a leaf out of bad girl Mae West's book and seduce him into kissing you all over.
Do it yourself: Wear a sexy outfit which he can easily remove. If he doesn't already know, show him the places you like to be kissed. Neck, shoulders, and all along your spine are all kissing hotspots. Who knows where his kisses will go after that!
Kissing tips - The long pash
Look at how passionate and loved up Jane Fonda and Robert Redford look with their long, sizzling kiss!
Do it yourself: Settle down on the sofa with your guy. Squeeze him closer and closer and bring your face next to him. Make eye-contact with him and begin to kiss. Lean back and let him take the lead. Keep the kiss going for as long as you can. Use your hands to caress him.
Kissing tips - Pounce on him!
Get passionate Marilyn Monroe style by wearing a killer dress and taking the lead! In Some Like It Hot, Tony Curtis (swoon) drives Marilyn wild and gets her to make the first move. If you do the same, your man will love it!
Do it yourself: Put on your hottest dress and pounce on him! Straddle him and put your arms around his head. Hold his head and control the kisses with your mouth. Start with closed mouth kisses, then up the passion by gently easing your tongue between his lips and start to French kiss him.
Kissing tips - The emotional snog
Show me a woman who can watch The Way We Were without a box of tissues! This kiss is frought with emotions as they both realise they'll never be able to be together.
Do it yourself: Now we're not suggesting you dump your man and then kiss him, but when things are getting emotional - if there's a row, or you're feeling stressed, go in for a full on kiss and you'll have guaranteed fireworks!
Kissing tips - Location, location, location!
Okay so we might not all have access to a romantic beach setting like in From Here To Eternity, but just check out the passion in this pic!
Do it yourself: Make some time for just the two of you to go out on a date to a dramatic location. Find a secluded spot and flirt outrageously until you fall into each others arms for a long passionate kiss.
Kissing tips - Be adventurous
Okay we're not suggesting you hang your man upside down in the rain and snog him, but this epic moment in the film Spiderman is so hot, we had to suggest something a little more adventurous!
Do it yourself: If he's sitting on the sofa, go behind him and kiss him upside down. It may feel weird at first but it's an exciting sensation and one which could lead to more adventures in the bedroom!
Kissing tips - Morning kiss
Kissing doesn't need to just be a nocturnal pursuit, just look at Jack Nicholson and Jessica Lange first thing in the morning! Believe it or not the morning can be a great time to get frisky - especially if he's up for it!
Do it yourself: Make extra time in bed in the mornings and wake him up with a kiss. Start off gently as he wakes up, then turn up the passion into a full on snog. You'll both start the day with a spring in your step!
Where to next?
- Have amazing sex
- Foreplay tips
Trusted, informative, and empathetic – GoodTo is the ultimate online destination for mums. Established in 2007, our 15-year-strong archive of content includes more than 18,000 articles, 1,500 how-to videos, and 7,000 recipes.