X Factor star Che Chesterman announces his engagement
The singer proposed to girlfriend Megan Hanley on Valentine's Day!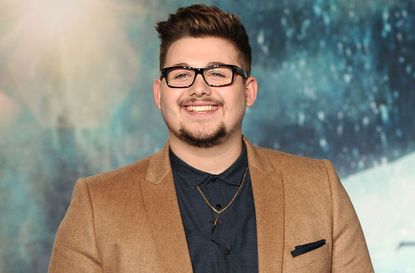 Che Chesterman has announced some very happy news! The X Factor finalist, who took part in the ITV talent show last year, took to Instagram to reveal that he proposed to his girlfriend Megan Hanley on 14th February... and she said yes!
Che revealed that he made the ultimate romantic gesture and proposed to Megan on Valentine's Day, and even treated his Instagram fans to the sweet proposal story.
'Have some massive news for people... So im about half hour away from going on stage so im gonna post now... On valentines day i put some notes around the flat for megan to read while i was away... The last note read 'will you marry me'.'
Ahhh, Che! And the cute story didn't stop there. The 19 year old continued: 'So i proposed to miss Meg Hanley and thank god... She said yes so as im on tour there is no ring yet but will let her choose one when im back!
'There'll be an engagement party when im back also so look forward to your invite!'
The announcement was accompanied by a picture of Megan, who has also just turned 19.
The couple, who've been together for a year, had previously revealed that they struggled to find the time to see each other while Che was filming for The X Factor last year, telling OK! magazine: 'I thought it would be nice for us to have the chance to miss each other a bit, but spending time away from Megan has been a struggle.'
It seems the pair are now completely loved up though, and Megan responded to her now-fiancé's Instagram post by saying: 'ALL YOU GUYS THAT PREDICTED IT WAS RIGHT OH MY GOD SO HAPPY'.
Che left the X Factor during last year's final on the Saturday evening, missing out on a place in the Sunday night finale to Louisa Johnson and Reggie N Bollie on public votes.