Experts warn salt and vinegar crisps, juices and even fruit are seriously harming our teeth
The popular crisp flavour is said to be very bad for oral health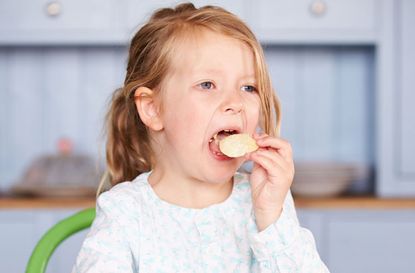 A new study has revealed that salt and vinegar crisps are some of the worst culprits for causing tooth decay.
Unsurprisingly juices, diet soft drinks and raw fruit are also some of the other food and drink items that experts warn are rotting our children's teeth and leading to a shocking increase in cases of children having to have rotten teeth removed.
Last year 43,000 kid's tooth extractions took place in hospitals across the country to remove rotten teeth. One in two children are estimated to suffer in tooth erosion.
Dental experts from King's College London have warned that snacking on highly acidic food and drink outside of mealtimes is the problem.
In a study of 600 adults, those who ate salt and vinegar crisps increased the chances of experiencing harmful erosion by a third.
Worryingly, those who drank a couple of fruit teas a day or simply hot water with lemon, were also 11 times likelier to suffer from tooth erosion.
It's a well-known fact that raw fruit has high levels of acid. For example, eating two oranges a day could up the risk of tooth problems by 37 per cent.
Salt and vinegar crisps are one of the foods named as worsening tooth erosion
According to the King's College study, acid lingered in the mouth for up to four times longer after a fruit smoothie compared to a can of diet cola.
Dr Saoirse O'Toole , a lead researcher behind the study, said: 'What surprised us was the longer the contact, the worse the effect. Having snacks and drinks with acid throughout the day does not give teeth time to recover.'
Dr O'Toole continued: 'Fruit, salt and vinegar crisps, fizzy pop and smoothies, these are causing real damage. They are really bad for you teeth.'
However, the new findings don't mean you'll need to cut these foods out all together, because according to the experts, consuming acidic foods with a meal can halve the shock erosion rates. So you can still enjoy fruit and smoothie - but only if it's strictly at a meal-time - like breakfast.
'If you want to enjoy them, have them with meals' Dr O'Toole advised.