'I'm very happy' Sheridan Smith confirms engagement to boyfriend Jamie Horn
Sheridan Smith has finally confirmed her engagement to boyfriend Jamie Horn.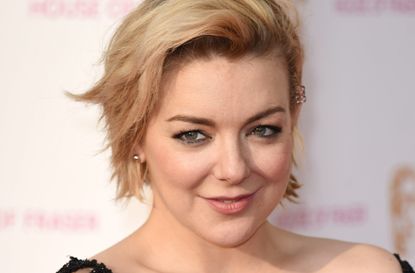 Sheridan Smith has finally confirmed her engagement to boyfriend Jamie Horn after months of keeping people guessing about the status of her relationship.
The actress admitted that she is in a 'very happy place' now after battling with depression and anxiety brought on by her father's death in 2016.
Speaking to Magic Radio about her mental health, the 37-year-old revealed that Jamie has played a huge part in helping her feel like herself again, while also casually slipping in to conversation that the couple are now engaged.
'Where I'm at right now I feel like this is really good, I've got all that under control,' she said.
'It was speculated that I was struggling. There were different doctors giving me different medication but I'm finally in a good place.
'I've got doctors care, I'm feeling great, I got engaged, I'm in a very happy place (laughs) so I'm very happy and you know that's it. I couldn't ask for more really.'
Sheridan's admission comes after months of rumours that the couple were planning to tie the knot following a whirlwind romance after meeting on dating app Tinder.
She was first spotted with Jamie in March and then confirmed her new relationship in April during a performance of her debut album in Cardiff.
Singing Rufus Wainwright's Dinner at Eight, Sheridan told the crowd: 'Right that song — that was my fella's favourite. Oh, did I not tell you? I've got a fella.
'Don't act so f***ing surprised, thank you. I know, you think it won't last — it probably won't. Anyway, that was his favourite song.'
Sheridan said 'yes' to the 28-year-old insurance broker's proposal after he reportedly popped the question with a £10,000 ring in May.
It appears the actress and singer may have finally turned her luck around after complaining to Vogue magazine in March about her many failed attempts at finding love over the years.
She said: 'What can I say? I don't pick them very well.'
A Freelance Writer and Content Editor, Jenni has been working on the women's lifestyle team at TI-Media on and off for over three years. She writes about your favourite celebrities and TV shows so you never miss an update. Jenni also writes beauty news and features - so for all of your skincare and make-up needs, drop her a line.