We earn a commission for products purchased through some links in this article.
There's no doubt we all deserve a little indulgence during the festive period, but do you know how bad the high street Christmassy sandwiches and drinks really are for you?
When Christmas carols start playing in the shops, it's easy to get carried away and swap your boring non-Christmassy latte for the festive version. After all, what's a Christmas shopping trip without a pit stop for a nice warm cup of gingerbread latte and a stuffing sandwich?
However, the amount of sugar, fat and calories in some Christmas drinks and sandwiches is truly shocking!
To make you aware of the hidden health dangers in festive food and drinks, we've investigated and ranked them from worst to not so bad – see below!
Christmas Sandwiches
Sainsbury's Boxing Day Sub
638 calories
24.5g fat
2.92g salt
A soft white roll filled with bacon, turkey, sausage and stuffing, this is the most calorific sandwich on our list. It also packs a lot of fat, so eat sparingly!
Pret Ham Hock and Chutney Toastie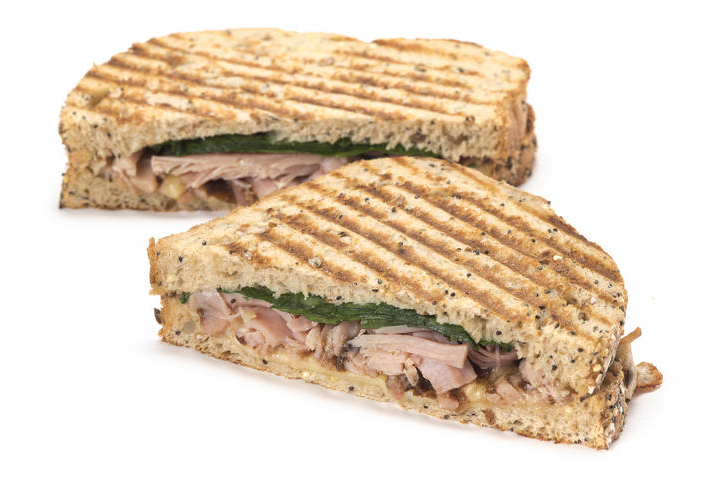 603 calories
25.2g fat
10.5g sugar
2.8g salt
This one seems like the most simple, and tricks you into thinking that means it's the most healthy. Nope.
With a whopping 25g of fat, this toasted sandwich of ham hock, mature Cheddar, spinach and festive chutney is the worst for your waist – we're blaming all that cheese on this one!
Eat Festive Full Works Bloomer
592 calories
19.9g fat
14.6g sugar
3.2g salt
With turkey, pork stuffing, smoked ham, reduced fat mayo and spinach, this has a super high calorie content, but isn't so bad on the sugar and has 35g of protein.
Pret French Brie and Cranberry Baguette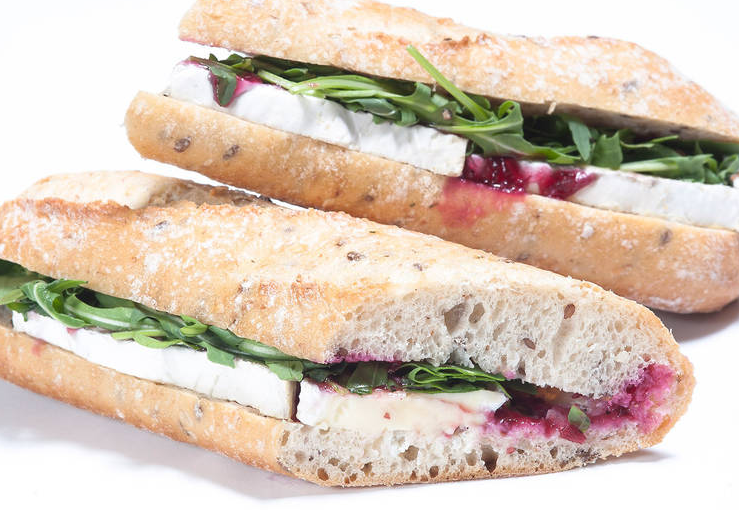 579 calories
29.3g fat
5.5g sugar
2.2g salt
This one is quite a fatty one thanks to the French Brie, but it does come with a spiced cranberry and port sauce, toasted pistachios and wild rocket – so there's a bit of a range of fruit and veg in there we suppose…
Pret Veggie Christmas Lunch Sandwich
531 calories
22.9g fat
16.9g sugar
1.6g salt
Even though this one is suitable for veggies, it's not completely healthy. Sure, it has butternut squash, Christmas pesto and rocket, but the yogurt and mayo dressing is probably the reason behind this sandwich's high fat content.
Pret Very Merry Vegan Christmas Lunch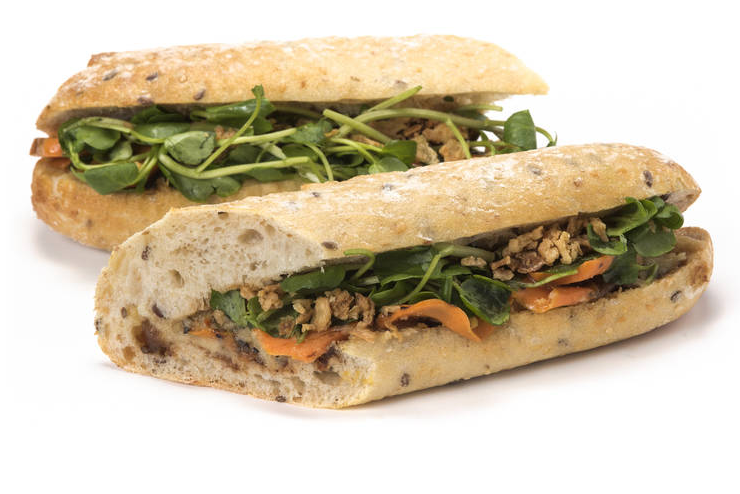 487 calories
14.8g fat
13.3g sugar
1.7g salt
Pret's very first vegan Christmas Lunch is here, featuring grilled carrots, parnsip puree, crispy onions, festive chutney and toasted pistachios. All for under 500 calories too!
Pret Christmas Lunch Sandwich
482 calories
16.1g fat
9.3g sugar
2.3g salt
This is indeed the ultimate Christmas sandwich that Pret has to offer.
Turkey breast, tart cranberry and port sauce, Pret's own stuffing made from minced pork, bacon and apricots, topped with crispy onions and spinach – all in one sandwich. It's not so bad as the Brie toastie, but it's definitely not one to be had every day!
Tesco Turkey Feast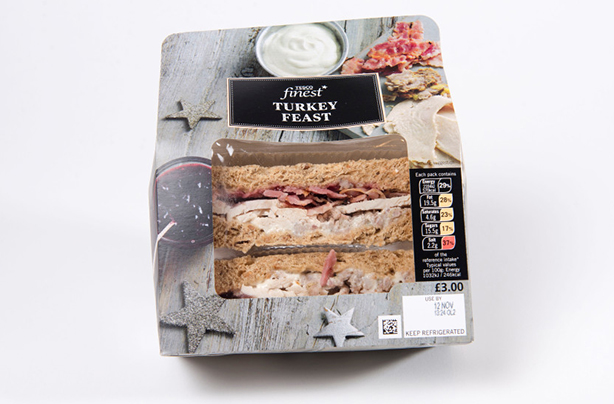 476 calories
16.5g fat
2.3g salt
With turkey, bacon, sausage, stuffing and cranberry sauce, this sandwich packs quite a lot of fat… it's far from our worst offender, however!
Eat Veggie Festive Bloomer
455 calories
13.4g fat
18.6g sugar
1.5g salt
The calorie, fat and salt content of this veggie- and vegan-friendly sandwich isn't too terrible, but there's a lot of sugar. With a mushroom, chestnut and walnut stuffing and spinach, it packs 16g of protein which is definitely a plus!
Eat Pigs in Blankets Breakfast Roll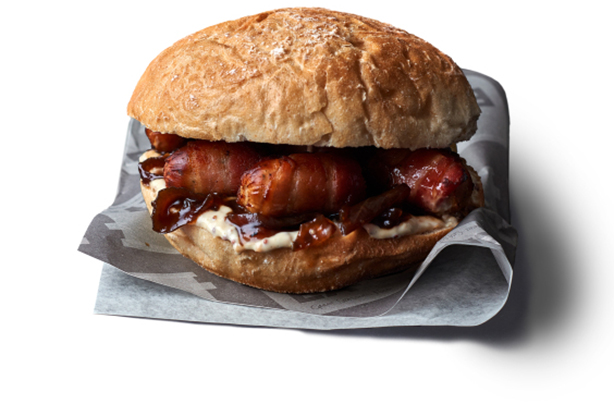 451 calories
21.3g fat
2.6g sugar
3.4g salt
Woah there – this is one fatty roll! That's no surprise, really, as sausages wrapped in bacon is the main component. At least there's not much sugar…
Christmas hot drinks
Some of our beloved Christmas coffees and hot chocolates contain more than double the maximum amount of sugar recommended by the NHS, which currently stands at 30g per day but the World Health Organisation actually wants to see reduced to 25g.
Starbucks, however, has been making changes to the sugar content of its drinks, cutting sugar down by as much as 22%.
The vice president for research and development at Starbucks, Sara Bruce-Goodwin, spoke about Starbucks' actions.
'We are committed to finding ways to keep the same great festive flavours that we know our customers love, whilst reducing the added sugar content in some of our more indulgent drinks,' she said.
'This year we have made significant progress on our 2020 commitment, reducing added sugar in our hot chocolates by 30% over the past two years and adding short sizes onto our menu boards.'
See below for the ranking of Christmas coffees, from worst to not so bad.
Caffe Nero Praline Hot Chocolate
460 calories
53.3g sugar
22.4g fat
The worst offender to our waistline and health is the most sugar-filled drink yet from Caffe Nero. Hot chocolate with nut syrup, cream and caramel sauce means that this drink is packed with fat and sugar.
Still, it's not that bad – last year's Sticky Toffee Latte from Costa packed a massive 72g of sugar.
Caffe Nero Tiramisu Hot Chocolate
291 calories
50.9g sugar
5.1g fat
This dessert-themed drink with tiramisu syrup is definitely a treat and not a daily morning fix!
Starbucks Fudge Hot Chocolate
287 calories
31.1g sugar
11.9g fat
Starbucks' Fudge Hot Chocolate, which is delicious, has 31.1g of sugar – that's more than the amount of sugar you should be having in ONE DAY just in one drink!
However, the sugar for this one has been cut by 22%, so at least they're making an effort to make it slightly healthier… all that fudge flavoured cream and the curly chocolate topping doesn't help though!
Pret A Manger Mint Hot Chocolate
278 calories
44g sugar
5.3g fat
It seems quite simple – organic hot chocolate with mint syrup and optional whipped cream. However, this festive drink packs in a lot of sugar, earning it fourth place calorie-wise on our list.
Costa Mint Hot Chocolate
273 calories
31g sugar
10.2g fat
What used to be Costa's most sugar-filled drink is not the worst offender this year, but it's still got a lot of fat thanks to mint syrup, whipped cream and a mini candy cane.
Starbucks Toffee Nut Latte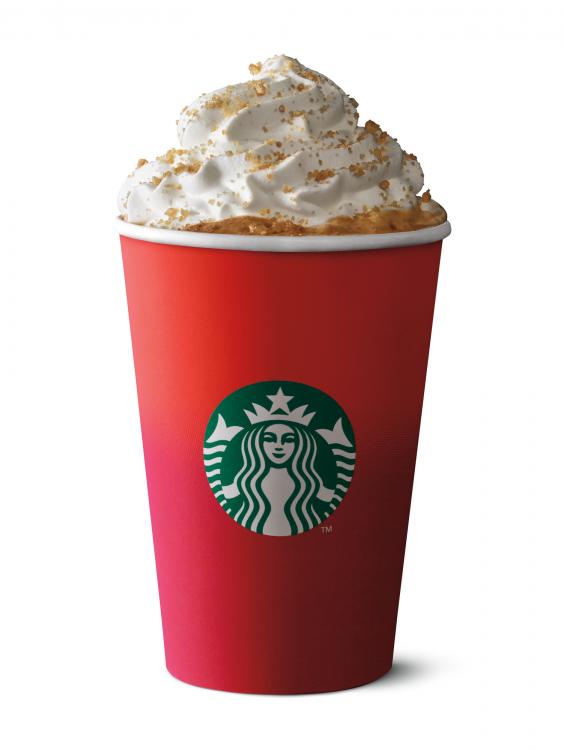 268 calories
31g sugar
11.1g fat
Starbucks also cut the sugar of this one by 4%, but it's definitely a once-in-a-while treat with its toffee syrup, toasted nuts and whipped cream.
Starbucks Gingerbread Latte
228 calories
29.3g sugar
6.7g fat
This one has had its sugar cut by 6%… it's still a lot of sweetness and a lot of fat though, with gingerbread syrup, gingerbread cream, and a crumbled wafer topping.
Costa Honeycomb Latte
217 calories
23.4g sugar
9.9g fat
At 23.4g of sugar, this falls under the UN's proposed limit of 25g a day – we suspect those chocolate-covered honeycomb pieces are to blame!
McDonald's Spiced Cookie Latte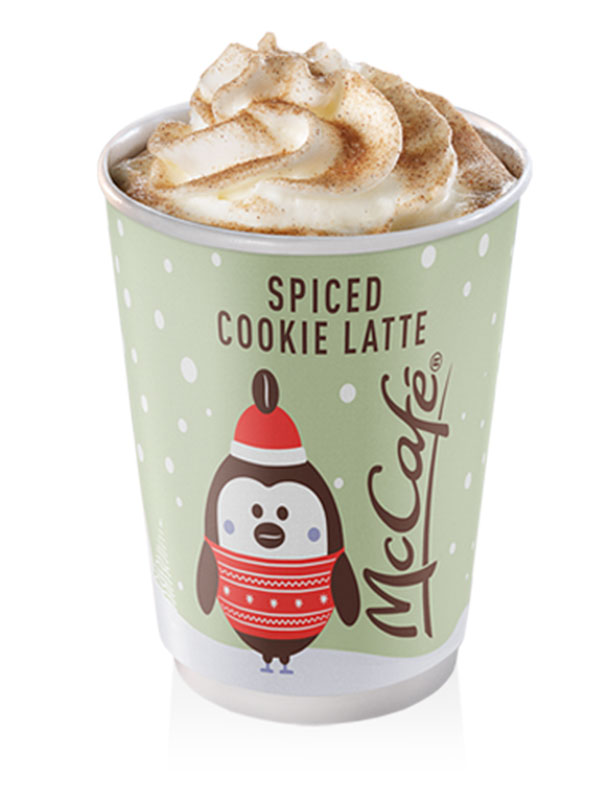 174 calories
22g sugar
5.7g fat
A shot of espresso with steamed organic, combined with spiced cookie flavoured syrup and topped with cream – this latte isn't the most calorific, but it still packs a lot of sugar.
Costa Lindt Hot Chocolate
163 calories
16g sugar
6.3g fat
Lindt Hot Chocolate? Sounds amazing, and the sugar content isn't too awful… considering an apple usually packs 10g of sugar.
Costa Salted Caramel Cappuccino
64 calories
8.8g sugar
0.8g fat
This is one of Costa's lowest treat drinks, and only has four more calories than normal cappuccino does! Even though it's topped with shimmery salted caramel fudge, it barely has any fat… winner!
This year's coffees seem to have less sugar than last year's, thanks to conscious decisions made by coffee companies to cut back on their sugar spree!
What do you think, will you be swapping your Christmas coffee for a healthier version? Let us know below!