We earn a commission for products purchased through some links in this article.
Image: Facebook/Simone's Journey to Health
This time last year, 24-year-old Simone Pretscherer weighed 169kg (26 stone and 8lbs). Just 11 months later, she's dropped an incredible 85.7kg – so when people started commenting on her photos accusing her of lying about her weight loss, she decided to hit back.
Simone, who shares updates about her health and fitness on her Facebook page, Simone's Journey to Health, chose to post a picture of her excess skin, in order to prove to those who believe she'd faked her images that her results were all down to hard work rather than editing.
Image: Facebook/Simone's Journey to Health
'I don't know why but every single comment that called me out for being fake and a liar really bothered me far more than it should,' she wrote beneath the picture.
'I think it's because it took hours of crying and debating whether to share my story online and for others to see, posting the first picture online along with my weight for the world to see what the hardest thing I have ever done.'
'Throughout my whole journey I have tried to be so honest about the whole experience and tell people it exactly as it's happened so to be called a fake hurt a lot. And then when it came to posting about my lose skin well that was equally as tough.'
'So here we go I hope this helps all the "non believers" – my face uncovered, yes my hair and eyebrows are a different colour as I'm going back to blonde, yes I have changed my phone from Samsung to apple and have moved house so the background has changed (it has been 11 months people, things change!), my skin colour varies in every single post as I get a spray tan once a week on a Thursday and often change the depth of the colour I get depending on what event I have that weekend, yes I have loose skin and stretch marks but I don't feel the need to show them in every single photo I post online, I have shared my excess skin picture before so if you had bothered to click on my page you would have seen it and as for my ears changing in appearance?! Well I can't see that haha so who the hell knows!!! Maybe weight changes ears lol.'
'Hope this helps. NOW LOST 85.7kg GO ME!'
More than 48,000 people have now liked Simone's honest photo set, with many of them leaving supportive comments. 'You are amazing Simone, don't feel like you ever have to explain yourself to the haters,' one wrote, whilst another said 'I had also a huge weight drop and I look totally different in the face ! Weight makes a huge difference ! Stuff the haters and embrace what you have achieved honey.'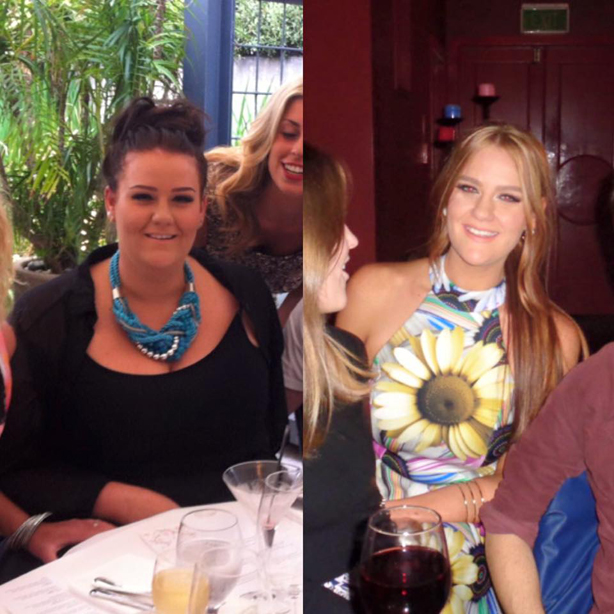 Image: Facebook/Simone's Journey to Health
Simone regularly shares 'before and after' pictures of her weight loss on her page, but still people doubted her story
Simone credits her incredible weight loss to a combination of diet and exercise changes and gastric sleeve stomach surgery, which she had in October 2014. She is also now setting herself fitness goals the Auckland harbour crossing swim and a half marathon.
She is also fundraising for skin removal surgery on GiveaLittle, a crowdfunding website – and at the time of writing, her supporters have donated more than $2,000.
In the latest update on her Facebook page, Simone thanked everyone for their donations, writing: 'I am absolutely blown away by your generosity, after a post I did a few months ago showing my loose skin (which is the result of the 85.7kg loss so far) and explaining that yes I do want it removed but that I just have to save up for it first.'
'I had so many of you say you would love to donate which in it self blew my mind that you would want to help an absolute stranger. I created a "Give a little page" where people could donate to help me achieve my goal of having the skin surgically removed, well today I had a look at it and there is nearly $1500NZD on it.
'I AM IN SHOCK! I cannot thank you enough – I am blown away and have had tears in my eyes all morning. THANK YOU!'