Slimmed down Claire Richards flogs her old clothes on eBay
The star has taken to the online marketplace to sell dresses she no longer fits into.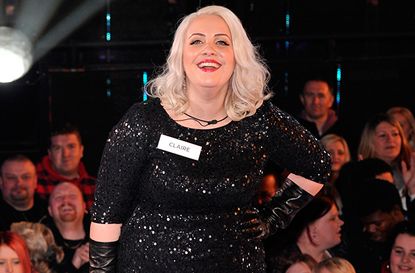 Here at goodtoknow, we're huge Claire Richards fans.
Not only because the star's well-documented struggle with her weight and yo-yo dieting has given inspiration to women all over the UK (we're not the only ones that find that extra slice of cake too difficult to resist - phew!) but the straight-talking Loose Woman has now taken to eBay to sell off her old clothes.
In a move that hints the ex-Steps singer is determined to maintain her slimmer figure, Claire has been tweeting (opens in new tab) links to her old glad rags on eBay, including a black sequinned dress she wore on a promotional Steps tour and a fitted little black dress.
One of the black dresses Claire is selling on ebay. She has described it as: 'Gorgeous black Asos Wiggle dress, size 16, worn on CBB in Jan 2013 for one of the eviction nights.'
The star is also selling this stunning black sequinned dress, which she wore for a special Steps Reunion performance on Children in Need 2011.
Since her days in Steps, Claire's weight has fluctuated from a size 10 to a size 20 and everywhere in-between.
The star hasn't been shy about sharing her struggle to keep the weight off. She released her fitness DVD Five Step Fat Attack in 2008, appeared in her own show My Big Fat Wedding following her battle to lose weight before her wedding in 2009, and documented her struggle with overeating further in her 2011 show Claire Richards: Slave To Food.
Claire is a big fan of glam dresses! Here she was in Jan 2013 entering the Celebrity Big Brother house in a dress similar to the one she's selling.
Today the singer is enjoying a slimmed down figure which she has put down to her and husband Reece's desire for a bigger family.
'This time there is a personal reason and it is something extremely personal to me but my Reece - my husband Reece and I - we decided that we wanted to try for another baby and me being overweight was causing us a lot of problems, so I went to see the doctor and he advised that I lose weight.'
The star is happy at her current weight and hopes to add to her family soon!
We'd love to get our hands on one of those dresses... especially the sequinned number!
Where to next?
Claire's changing shape in pics
Would you try the Cambridge Diet like Jennifer Ellison?