The best fitness bands: Which one's right for you?
With the New Year fast approaching, and our exercise routines likely to kick up a gear, what better excuse is there to invest in a fitness tracker?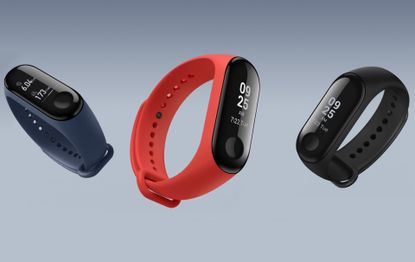 (Image credit: Mi)
With the New Year fast approaching, and our exercise routines likely to kick up a gear, what better excuse is there to invest in a fitness tracker?
They're the new buzzword in the fitness world and everyone from Gwyneth Paltrow to Barack Obama has been spotted wearing them, but what exactly are fitness bands? And what's the best fitness device for you? Here, we've answered a few of the most common questions about these nifty gadgets and even rounded up our favourites…
What are fitness bands?
Whether you wear them as a bracelet, a watch or even a small clip on your belt - fitness bands are wearable electronic monitors that track every move you make and send the results to your smart phone, tablet or desktop computer. They can range from the simplest pedometer (that counts your steps) to high tech devices that track everything from the quality of your sleep, to monitoring your pulse.
How do fitness bands work?
The most basic fitness bands contain an accelerometer that measures how many steps you take, by measuring your orientation and acceleration to see whether the device is horizontal or vertical and whether you're moving or sitting still. This information is usually sent via Bluetooth to an app on your phone or computer, where it is cleverly analysed to show how many steps you've taken that day.
By entering your height, age and weight into this app, it will also work out how calories you've burnt. You can make your results more specific by inputting the exact exercise you were doing if you've been out for a run or popped on an exercise DVD. More advanced bands can even monitor everything from the quality of sleep you had at night or warn you by buzzing when you've been sat still too long – they're pretty nifty!
Why should I get fitness bands?
It's a way of getting to know you're body more personally and getting specific results tailored to your lifestyle. Most supporting apps allow you to enter in the food and drink you've eaten each day, or partner with weight loss apps like weight watchers, so you can see all your health and fitness results on one handy app.
You'll soon learn more about your body and the way it works – particularly for the third of your life that you spend asleep. They're a great way to motivate you to get moving – so no more couch potatoes allowed!
Are fitness bands too expensive?
There are a few expensive brands out there, but unless you want one that does everything under the sun, you'll be able to find a basic tracker that will suit your needs and not cost you a holiday.
Want to know which one is best for you? Here's our top picks…
Best for smaller budgets: Mi Band 3 (£26.99)
This water resistant (up to 50m) fitness tracker is a steal at under £30! The range of features on offer include a 20 day battery life as well as heart rate, sleep quality, step count monitoring. You can also keep in touch more easily with friends and family thanks to Incoming call and WhatsApp messages reminders.
Best for calorie counting: August SWB200 Smart Activity Tracker (£54.99)
Want to know exactly how many calories you burned during your workout? Then this sleek fitness tracker is for you. Additional features to get excited about include a smart OLED Display, monitoring during activity and during all stages of sleep.
Best fitness band for life tracking - Sony SmartBand SWR10 (£80)
This light and comfortable to wear band is designed to pair with Android and Sony phones. It covers most of the functions that other fitness bands offer – it tracks movement through an accelerometer and offers options to count calories and track your sleep.
But the Sony SmartBand goes one step further by monitoring other aspects of life like your social media usage, time spent watching video and listening to music; so you can keep track of how you're spending your time each day and set goals if you want to make a change.
Use with: Sony/ Android phones – But your phone needs to be running on Android 4.4 KitKat or higher and requires Bluetooth 4.0
Our rating: 3/5
Best fitness band for swimmers - Misfit Shine (£64.99)
This handy band is water resistant up to a depth of 50m, so it's a must have for keen swimmers. It can be worn anywhere on your person – it works as a necklace, clip or band, so there's plenty of style of options to suit your mood. In fact, the display actually doubles as a watch, so there's no need to wear multiple straps on your wrist.
In addition, the Misfit's battery is super long lasting and you can tell the app which activity you're doing (swimming, running and cycling are all options) so your results will be even more specific.
Use with: IOS, Android and Windows.
Our rating: 3/5
Best budget fitness band - Activ8ourlives BuddyBand 2 (£49.99)
If you're after a value-for-money tracker for everyday movement, the BuddyBand 2 is the one for you.
The BuddyBand2 is a waterproof physical activity counter which tracks distance travelled and total daily time the wearer has been physically active. It also transmits data via Bluetooth 4.0 to the Activ8rlives4 Health+Wellness App via a Smartphone or Tablet and displays data in charts, graphs and data tables.
Best fitness band all-rounder – Fitbit Alta HR (£129.99)
Bursting with a range of features this heart rate and fitness band packs a lot into such a small device. As well as tracking activity and sleep it also gives you reminders to move and automatically recognises select activities and records them in the activity section of your FitBit App.
Trusted, informative, and empathetic – GoodTo is the ultimate online destination for mums. Established in 2007, our 15-year-strong archive of content includes more than 18,000 articles, 1,500 how-to videos, and 7,000 recipes.