Nineties chat show host Trisha Goddard opens up about her battle with cancer and mental health
'People would say, "Oh you're so brave". But that's not the case. You can be an utter coward and still have cancer'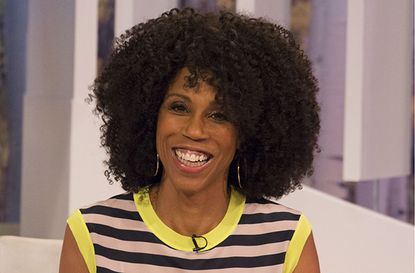 (Image credit: Ken McKay/ITV/REX/Shutterstock)
Former chat show host Trisha Goddard has opened up about the obstacles she's had to overcome to reach her 60th birthday in a candid interview with The Mirror.
Ahead of her appearance on Good Morning Britain as part of their Health Star awards, Trisha revealed how a drastic attitude overhaul, both of her physical and mental health, helped her in reaching a birthday she 'never imagined' she'd see.
Trisha decided to make changes to her lifestyle after being diagnosed with breast cancer (opens in new tab) in 2008, saying she felt a 'duty' to improve her health whilst receiving treatment.
'You've got to help the surgeons and the NHS. I think we have a duty to do what we can to help ourselves, so that's what I've done – to improve my longevity,' she admitted.
Taking up running during her cancer treatment was difficult, she says, but was the first of a string of lifestyle adjustments. 'I started running and I still do five to seven miles a day. The running was hard when I had cancer. Those first 15 minutes were painful. People would say, "Why are you putting yourself through that?" But resilience is the best gift I can give myself and my kids. You don't just give up at the first sign of discomfort.
'You're not going to get anywhere in life with that attitude. There's no such word as 'can't'. You just keep trying.
'And now I can run faster than I ever could. And I have a personal trainer and I practise something called gyrotonics which is hard to explain but amazing, like pilates.'
The chat show host has also given up meat and cut out soya, and reveals that her choices have influenced her two daughters, Billie and Madison, whom she lives with in Connecticut, USA.
The family moved to America in 2010, with Trisha still making chat shows for 5USA - and it was at this time that the star found out her condition had been more serious than she'd realised.
'When I got my green card to move to America I had to request all my medical notes. I read them and for the first time realised I had gone through stage three cancer. I always thought I had stage two!'
'People would say, "Oh you're so brave". But that's not the case. You can be an utter coward and still have cancer. I heard those words and all I was thinking was "f***". I'll probably be having tests for life. I'll be told next year whether I can come off drugs, but it doesn't bother me.'
This isn't the first time she's spoken honestly about her health issues. In a touching interview with fellow ITV stalwart Lorraine Kelley in 2014, Trisha opened up about her previous battles with her mental health and admitted to using marijuana to 'self-medicate' whilst experiencing depression (opens in new tab).
'It was a coping mechanism. And in those days – as still now – there was a huge taboo about having depression. Especially anything high-profile, because you won't get insured, employers see you as a risk ... and so that was my coping mechanism, back then.'
However, it seems like the changes Trisha has since made are sticking with her for the long-term, as she couldn't be happier with her healthy new lifestyle.
'I can't even think about what turning 60 actually means!' she exclaimed. 'I'm just bloody glad I'm still alive.'
Trusted, informative, and empathetic – GoodTo is the ultimate online destination for mums. Established in 2007, our 15-year-strong archive of content includes more than 18,000 articles, 1,500 how-to videos, and 7,000 recipes.