Report warns of 'dangerous consequences' as anti-vaxxers target new parents with misleading stories on social media
This is so shocking...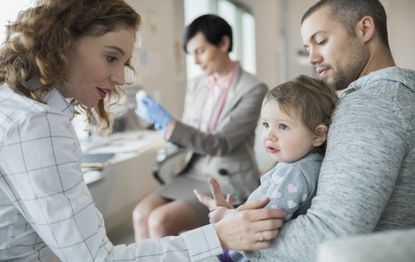 (Image credit: Hero Images/Getty Images)
A new report from a leading independent charity promoting and protecting public health and well-being has warned that a number of new parents have been deterred from vaccinating their children after scaremongering from 'anti-vaxx' groups via social media.
The Royal Society for Public Health (RSPH) survey questioned 5,000 people – including 2,600 parents – across the UK on their awareness and attitudes towards vaccines, such as MMR, the flu jab and HPV.
It found that while 90 per cent of parents had a positive perspective on vaccinations and had vaccinated their children around one in 10 parents chose not to give their child the MMR jab, which protects against measles, mumps and rubella.
For the latter group, the most common reason cited by parents for not opting to vaccinate their infants were fears over side affects, followed by doubts over whether the vaccine would be effective.
Further figures showed that one in five parents chose not give the flu jab to their child while one in 14 refused a HPV jab – which protects against the types of Human papilloma virus that can cause cervical cancer – for their teenage daughter.
For the two groups above again their main concern was over unwanted side effects.
The research goes on to outline that these fears may have been exacerbated by so-called 'Anti-vaxx' groups – named so because campaign against vaccinations – posting stories on social media that claim babies have died or been harmed by vaccination.
Explaining further RSPH chief executive Shirley Cramer said: 'We need to counteract health misinformation online and via social media.'
Continuing she added: ''We call on the social media giants and the platforms to look at what they could do around this because it is a breeding ground for misleading information and negative messaging. There could be some really negative and dangerous consequences. They need to take some responsibility.'
In November the Advertising Standards Authority (ASA) banned a series of anti-vaccination ads from Facebook.
The paid-for social posts from American campaign group Stop Mandatory Vaccination – which has more than a 124,000 members – claimed that 'any vaccine given at any age [can] kill your child' and that Sudden Infant Death Syndrome (SIDS) – a disease that accounts for over 200 deaths annually UK – was fabricated by doctors and medical professionals.
On their decision the ASA said: 'Because we had not seen sufficient evidence that showed all vaccinations were proven to have the capability of causing death to children, we concluded that the claim "not only can any vaccine given at any age kill your child" had not been substantiated and was misleading.'
NHS data has revealed a downward trend in some MMR vaccinations.
It showed that the proportion of two-year-olds immunised against MMR dropped for the fourth consecutive year for 2017-18.
Speaking about the figures at the time, Helen Donovan, professional lead for public health at the Royal College of Nursing, warned: 'For the first time last year, Britain was declared free of endemic measles, but these figures show we are turning the clock back and leaving thousands of children unprotected.'
Freelance Lifestyle Writer
Miriam Habtesellasie is a freelance lifestyle writer who has contributed content to GoodTo, Woman&Home, Women and Idealhome.co.uk. Miriam is based in London and is a fan of everything interiors, she admits to being spoilt for choice living in the capital. From stunning architecture right the way through to eye-catching department store window displays, she believes there's always an angle to be found that can translate to our abodes.