Mum reveals this clever dishwasher hack that saves a ton of money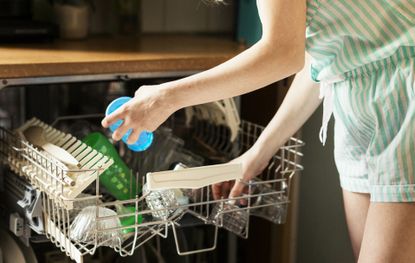 A mum has taken to Instagram to share her money-saving dishwasher hack.
Posting to her Instagram page, a mum stated that by using just half a dishwasher tablet at a time leaves her dishes just a clean, and means the box obviously lasts twice as long as they normally would.
Read more: Tidy up every part of your home with these easy 55 cleaning hacks (opens in new tab)
The Australian mother shared a photo of her tablets cut in half on her Instagram profile, accompanied by the caption: 'Because they still clean just as good'
The innovative lady has been praised by a few people who have tried and tested her trick, with one user commenting: 'Interesting. I had never thought about doing this before but it kind of makes sense especially if the halves do just as good a job.'
Another enlightened individual wrote: 'Omg never thought of this, I have 2 of those stupid dish draws that do half a load each. Always complain that I pay double cause I use 2 tablets to do 1 tablets worth of a load.'
Read more: Mumsnet users shocked by woman's controversial bathroom cleaning hack (opens in new tab)
One user, who has already practiced the hack herself, also chimed in to state just how effective a money-saving hack it is. She shared exactly how much her family have saved: 'We have always done this cut ours in half - half a tablet a day we get the pack of 40 for around $6 and it usually last us up to 2 months it's fantastic savings and value.'
And this user kindly thanked the mum for sharing her forward-thinking idea: 'Ooooooh thank you for the idea! Never even considered it to be an option but I'm for sure going to try it!'
We love a good cleaning hack, especially one that saves a ton of money - thank you mystery thrifty mum!!
Do you have a similar money-saving hack? Head over to our Facebook page and let us know...
Freelance Lifestyle Writer
Niamh McCollum is a freelance lifestyle writer who has written for Future titles GoodTo and Marie Claire UK, plus the Irish Independent. The Dublin-based journalist specialises in stories
affecting families - from health updates, to the freshest parenting debates and celebrity announcements.