This Morning's Dr Ranj opens up on mental health, revealing he was suicidal before coming out as gay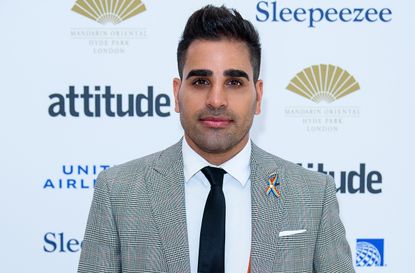 (Image credit: Getty)
Dr Ranj has opened up about mental health.
This Morning's resident doctor has spoken out about his sexuality, revealing the first time he discussed the topic with his family when during his stint on last year's Strictly Come Dancing.
Speaking to the Mirror, the former dance contestant shared that before he came out 10 years ago he was married to a woman. At the time, he feared he would be rejected by his family if they knew the truth about his feelings, leaving him with anxiety.
'Ten years ago my life changed dramatically,' said the 40-year-old. 'I came out of a straight relationship and started to accept who I actually was...
'I was truly broken,' he continued. 'I felt like I was a really bad, horrible person just for being true to myself.
'In times like that, you have really dark thoughts and I did have times when I thought it would be easier not to be here.'
However, he detailed how he would not have been able to get through the ordeal without his family by his side, adding that they were more supportive than he expected when he had the courage to open up to them about his sexuality last year.
'It was only because of the kindness and grace of my friends and family, and the LGBT+ family that I was able to put myself together again,' continued the NHS clinician.
'I never thought my family would be as accepting as they are,' he added, saying that they were 'the most loving and supportive people I know'.
The TV star also revealed that he had dealt with homophobia in his job as an NHS doctor, saying: 'The media industry is much more accepting, but I feel like the medical world has a little further to go.
'It's a bit ironic that the caring profession could ever be prejudiced, but it does happen.
'People like myself and so many others are here to change that, though.'
Aleesha Badkar is a lifestyle writer who specialises in health, beauty - and the royals. After completing her MA in Magazine Journalism at the City, the University of London in 2017, she interned at Women's Health, Stylist, and Harper's Bazaar, creating features and news pieces on health, beauty, and fitness, wellbeing, and food. She loves to practice what she preaches in her everyday life with copious amounts of herbal tea, Pilates, and hyaluronic acid.