Gordon Ramsay sparks concern after sharing photo of son Oscar in a baby carrier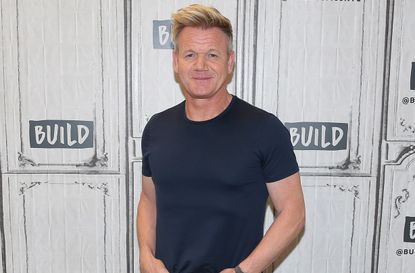 (Image credit: Getty)
Gordon Ramsay has sparked concern among fans after eagle-eyed followers pointed out the position in which he held his baby in his baby carrier.
The TV chef, who welcomed his fifth child with wife Tana back in April (opens in new tab), took to Instagram to share a sweet photo of him with three-month-old Oscar enjoying a day out together, but followers were quick to point out the dad's mistake in how he was holding his child.
The dad-of-five uploaded two adorable snaps of himself holding his newest addition to his brood in a baby carrier.
Tagging baby Oscar's Instagram account in his caption, Gordon wrote alongside the picture: 'Walk in the Park with my new best mate!'
Fans were delighted to get an update on little Oscar, with many commenting on how much the tot looks like his famous father.
However, some followers pointed out that the baby carrier didn't seem to be positioned in the best way.
'He's so SCRUMPTIOUS,' commented one fan. 'However, please take a look at TICKS rules for babywearing, to keep you and Oscar safe'.
'I was thinking the SAME thing!!' replied another. 'I was like "Cute...but he's definitely not wearing that baby correctly"'.
'That support is not ergonomic and the child's forehead position is not recommended,' added another Instagram user. 'I advise you to change support for a more pleasant babywearing experience for both!'
T.I.C.K.S. rules for babywearing is a list of guidelines from the UK Sling Consortium that advises parents on how to safely use a baby carrier.
Other parents echoed this advice in comments on the 52-year-old's Instagram post, highlighting that the guidelines say that 'Baby's head/face has to be completely above the front panel to forward face and the straps need tightened to bring the top of his head up close enough to where he could easily kiss the top of his head without leaning down.
'He should be up higher and facing towards his chest at that size.
The follower added: 'When my littles are that tiny I use the stretchy wrap rather than a structured carrier.'
Aleesha Badkar is a lifestyle writer who specialises in health, beauty - and the royals. After completing her MA in Magazine Journalism at the City, the University of London in 2017, she interned at Women's Health, Stylist, and Harper's Bazaar, creating features and news pieces on health, beauty, and fitness, wellbeing, and food. She loves to practice what she preaches in her everyday life with copious amounts of herbal tea, Pilates, and hyaluronic acid.