Non-invasive, home test kits for cervical cancer could replace smear tests
An initial study of the test has some positive findings…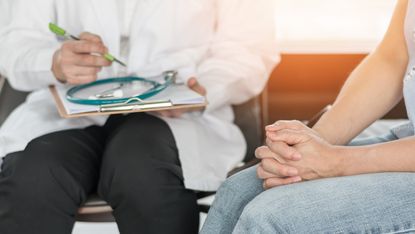 GoodTo newsletter
Sign up to the GoodTo Newsletter. You can unsubscribe at any time. For more information about how to do this, and how we hold your data, please see our privacy policy
Thank you for signing up to . You will receive a verification email shortly.
There was a problem. Please refresh the page and try again.
Women could soon be using an at-home test kit to detect their risk of developing cervical cancer, in place of visiting their local surgery for a smear test.
Researchers have developed a "self-sampling" test kit that would enable women to collect urine and vaginal samples at home. These would then be examined for pre-cancerous cells.
Over 600 women who tested positive for human papillomavirus (HPV) or who had abnormal smear tests (opens in new tab) took part in a study of the test.
Researchers then analysed the samples for changes in DNA caused by HPV, which causes the majority of cervical cancer cases, according to Cancer Research UK. HPV spreads during skin-to-skin contact, usually during sexual activity.
They found that the test correctly identified high-risk pre-cancerous cells in 96 per cent of samples.
Dr Belinda Nedjai, director of the Molecular Epidemiology Lab at Queen Mary University of London, said, 'The initial use of self-sampling is likely to be for women who do not attend clinic after a screening invitation and countries without a cervical cancer screening programme. In the longer term, self-sampling could become the standard method for all screening tests.
'The study indicated that women much preferred doing a test at home than attending a doctor's surgery.'
READ MORE: Cervical cancer: symptoms and signs to look out for
And on the test's potential she added, "We expect the self-sampling test to improve acceptance rates for cervical cancer screening, as well as reducing costs to health services and improving the performance of screening programmes."
Currently all women aged 25 to 64 are invited to a cervical cancer (opens in new tab) screening, as part of the NHS's cervical cancer screening programme.
Between the ages of 25 to 49 women are invited for this every three years. After this women are invited every five years until the age of 64.
Last year a survey of 2,017 women by the charity Jo's Cervical Cancer Trust revealed that one in four eligible women (aged 25-64) do not take up their smear test invitation. This figure climbed to a higher one in three among 25-29 year olds. While demand for cervical cancer screenings increased after reality star Jade Goody's cancer (opens in new tab) in 2008, uptake has since dropped again.
Now, the NHS and other health professionals are urging anyone eligible for a smear test to come forward and book.
Miriam Habtesellasie is a freelance lifestyle writer who has contributed content to GoodTo, Woman&Home, Women and Idealhome.co.uk. Miriam is based in London and is a fan of everything interiors, she admits to being spoilt for choice living in the capital. From stunning architecture right the way through to eye-catching department store window displays, she believes there's always an angle to be found that can translate to our abodes.