Lisa Riley celebrates incredible weight-loss journey with emotional throw-back post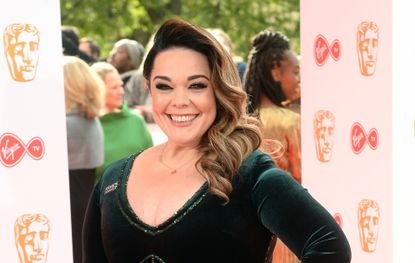 The actress infamously lost 12 stone in just 18 months.
Lisa Riley has taken to Instagram to mark two years since undergoing the first of two major operations for skin removal after a truly incredible weight loss journey.
The 41-year-old actress, who is best known for playing Mandy Dingle in Emmerdale, celebrated the fact that it's been two years since her dramatic weight loss at the weekend, with a heartfelt post on Instagram.
Read more: Lisa Riley reveals cutting carbs after 1.30pm keeps her on track after incredible 12 stone weight loss (opens in new tab)
The photo shows the moment she went in for her first life-changing operation to remove the excess skin she was left with after dropping such a huge amount of weight.
The TV star wrote: 'Have such a HUGE amount of self love and self care mixed in with a basket full of pride, because this morning, as I wake up remembering that two years ago TODAY, I has the first of my two major operations for skin removal, after working so incredibly hard, changing my life FOREVER, going from a size 28 to a 12, all with hard work and dedication.'
Read more: Lisa Riley returns to Loose Women after recovering from her skin removal surgery
The actress also revealed: 'Don't get me wrong it was hard to stay strong at times...but know I adore my new life of good healthy eating, zero alcohol, training, walking as much as possible'
Lisa then left this inspirational message for followers who may be embarking on their own journeys to live healthier lives:
'So today as you can understand for me is VERY special. Because it is possible, and I've proven that to so so so many!!! You JUST have to really want it for YOURSELF!!!'
The former Loose Women panellist appeared on the talk show for the first time after recovering from her skin removal surgery in 2017, and spoke of how delighted she was with her transition:
'I keep stroking myself, I can't believe it, it's incredible!'
'I have to remember to close the curtains at home, as I'm constantly walking around naked!'
Fans rushed to congratulate Lisa on her weight-loss journey since posting the picture of her surgery on Instagram, with one writing: 'Fabulous. Good for you. You are an inspiration to so many x'
Another user shared how Lisa's story personally impacted her:
'You did an amazing thing that you can be proud of forever. Self love is so important. You were beautiful when you were a size 28 and you are beautiful now. Live your life for you.'
'I have come to a standstill on my weight loss journey but you have inspired me to get back on it. Thank youx'
Freelance Lifestyle Writer
Niamh McCollum is a freelance lifestyle writer who has written for Future titles GoodTo and Marie Claire UK, plus the Irish Independent. The Dublin-based journalist specialises in stories
affecting families - from health updates, to the freshest parenting debates and celebrity announcements.