Mel B opens up about undergoing extreme vaginal scraping procedure following divorce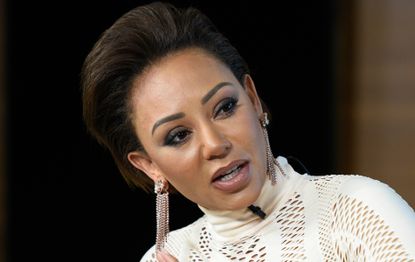 Goodto Newsletter
Parenting advice, hot topics, best buys and family finance tips delivered straight to your inbox.
Thank you for signing up to GoodTo. You will receive a verification email shortly.
There was a problem. Please refresh the page and try again.
Mel B recently revealed that she had the inside of her vagina 'scraped' to remove all traces of her ex husband, Stephen Belafonte.
The 43-year-old singer has opened up about their complicated marriage in her new memoir, Brutally Honest, claiming that she suffered physical and emotional abuse at the hands of Belafonte throughout their 10 year relationship.
The pair married in Las Vegas in 2007, but split up in 2017. Their divorce was finalised in November of last year, and she was granted a restraining order against Stephen in June.
In an interview with The Guardian, Mel B spoke of the procedure, saying: 'They scraped the inside of my vagina and put new tissue in. It's almost like a rape victim would do – essentially, you want to scrub yourself clean.'
The procedure involves having the walls of the vagina scraped, with Mel B's surgery being carried out in a Beverly Hills practice.
She explained: 'I went to Dr Matlock and I said, I don't want to feel like the last person that was inside my vagina was this monster.
'He examined me, he said... "Legally there's nothing I can do about that because you don't need anything done." I said could he just go in there and get everything out, but then pack it with new fresh tissue.'
Mel B explained that most women undergo the procedure 'because they want to be made smaller', but she wanted to feel 'clean and new inside'.
In an episode of Jessie Ware's podcast Table Manners, Mel further elaborated on her motivation behind seeking the procedure. She said: 'What I did was a bit like, and I say this very candidly but it's actually very important, a bit like a rape victim.
'When you've been raped, you wanna scrub any remnants off your body, inside outside, of that person, so you can just erase it.'
Dr Matlock, the Beverly Hills based cosmetic gynaecologist who carried out Mel B's procedure, offers up to 12 cosmetic female genital plastic surgery procedures at his practice.
Such procedures include laser vaginal rejuvenation, which specifically had a health warning issued against it by the US Food and Drug Administration in July.
Gynaecologists, such as Dr Fiona Mattatall, have since spoken out against vaginal 'scraping' procedures, and warned other women to resist from following suit.
Speaking to Refinery29, another gynaecologist Dr Jen Gunter, spoke of her apprehension for the procedure: 'Women, should never, ever have their vagina scraped.
'Women should also not be offered untested procedures that seem to have no medical value. Any scraping of the vaginal epithelium [tissue] could affect the vaginal ecosystem and theoretically could spread HPV locally and would increase a women's vulnerability to infection.'
The doctor also offered advice for anyone who is tempted to opt for the procedure in a bid to rid themselves of what may be a reminder of a harrowing encounter with a man: 'Your vaginal epithelium completely regenerates itself every 96 hours. The surface cells are shed every four hours.
'If you want to remove physical residue of some horrible man's penis, your vagina has you covered.'
The former Spice Girls singer also revealed that she had a tattoo of Belafonte's name 'cut off' her body rather than having it removed with a laser, against medical advice from her doctor: 'If he's cut from my body, he's cut from my life.'
Parenting advice, hot topics, best buys and family finance tips delivered straight to your inbox.
Freelance Lifestyle Writer
Niamh McCollum is a freelance lifestyle writer who has written for Future titles GoodTo and Marie Claire UK, plus the Irish Independent. The Dublin-based journalist specialises in stories
affecting families - from health updates, to the freshest parenting debates and celebrity announcements.