Loose Women's Nadia Sawalha reveals she's struggling to stick to her diet and blames 'menopausal binges'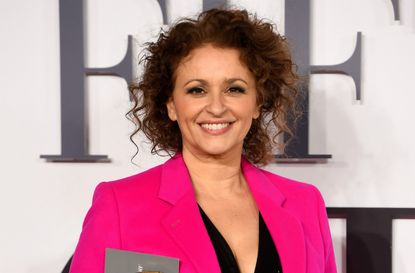 (Image credit: Ian Gavan)
GoodTo newsletter
Sign up to the GoodTo Newsletter. You can unsubscribe at any time. For more information about how to do this, and how we hold your data, please see our privacy policy
Thank you for signing up to . You will receive a verification email shortly.
There was a problem. Please refresh the page and try again.
Nadia Sawalha has confessed that all she wants to do is ditch her diet – but she can't because she constantly compares herself to her 'slim' Loose Women co-stars.
The actress says she'd have carbs with every meal if she could, but has been 'making healthy choices (opens in new tab)' instead.
Speaking exclusively to Woman's Own, Nadia said, 'If I wasn't in the public eye I'd just let myself go. I work in a job where most of the other women are super-slim. Everyone works out like nutters, they're all really fit. It's enormous pressure.'
And it seems that since going through the menopause (opens in new tab), 54-year-old Nadia is struggling to keep her food cravings (opens in new tab) at bay.
She's recently been documenting her binges on Instagram, even confessing that she stole her 11-year-old daughter Kiki's Easter eggs!
She wrote, 'Chocolate binge alert! My daughter's back in five minutes. It took me ages to find her Easter eggs. I've got such a chocolate head, I'm going to scoff as much as I can before she's back.'
She later said, 'Why can we not have carbs with every meal? I never have as much as I want, and right now I want a massive pile of roast potatoes. But I'm unfortunately going to make a healthy choice and have brown basmati rice instead.'
And sharing a picture of a cake, she later added, 'I know this is in the fridge… absolute f***er.'
Nadia, who is also mum to Maddie, 16 (opens in new tab), has previously admitted using food as an emotional crutch, describing it as her 'favourite drug'.
'If I was sad, lonely, nervous, I'd turn to food,' she said. 'It wasn't until I went to Overeaters Anonymous that I realised it was a thing. It doesn't mean I never binge, but it doesn't get a grip on me like it used to, because I recognise it.'
The presenter has also been honest about her tough experience with the menopause, admitting, 'I wake up in the morning and it's like there's a ton of bricks on my shoulders.
Read more: Nadia Sawalha breaks down over body image in emotional video
'The menopause is really dark. I had irrational rages – you get really angry out of nowhere and all of a sudden I'd have these flip-outs.'
We reckon you deserve every bit of that chocolate, Nadia!