Picture showing what female milk ducts actually look like goes viral and people are very surprised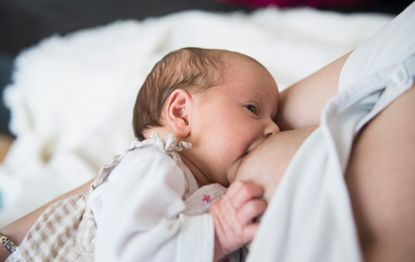 A picture revealing the inside of a woman's breasts and milk ducts has gone viral on social media and people are literally freaking out.
Have you seen what milk ducts look like?
Well, now you can. An image of what female milk ducts actually look like has been shared on Twitter and it has since gone viral.
A Twitter user posted the photo with the caption: 'I just realized I never saw a photo of a female muscle system. This is NOT what I imagined milk ducts to look like.'
The image has received over 45,000 retweets and 138,000 likes.
The image of the flower-shaped muscles is an image that most of us have never seen before.
Female milk ducts are glands, which grow during pregnancy (opens in new tab), and play an important role in producing milk when a mother is breastfeeding (opens in new tab) her baby.
The milk ducts are divided into tiny grape-like segments, and carry milk from each little segment into the nipple.
The glands only start producing milk once a mother has given birth.
The inside of a woman's chest is apparently not known to the vast majority of us, leaving many fellow Twitter users shocked, and some even disgusted at the picture of the female anatomy.
Some people questioned why at school they had only ever been shown pictures of the male anatomy.
One user said: 'I'm in awe why wasn't I shown this in school?!?!'
Other users were delighted over the discovery: 'I think they look like a flower and looks pretty 🤷🏻 ♀️.'
Another added: 'At first glance I thought someone had placed some flowers there. Aren't our bodies beautiful in their design.'
Some on the other hand were absolutely disgusted: 'How are some of you finding this beautiful? I'm legit STRESSED knowing this is inside my titties 😭😭😭😭😭😭😭😭😭😭😭.'
Another posted: 'I found out about these when I was pregnant at the doctors and I literally threw up. Everytime I get engorged or have to pump I think about the inside and almost get sick again its so terrible.'