Friends fan works out that Rachel Green was pregnant for a whole 12 months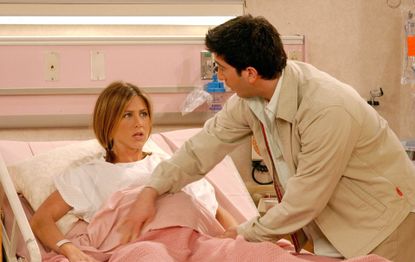 (Image credit: Getty Images)
GoodTo newsletter
Sign up to the GoodTo Newsletter. You can unsubscribe at any time. For more information about how to do this, and how we hold your data, please see our privacy policy
Thank you for signing up to . You will receive a verification email shortly.
There was a problem. Please refresh the page and try again.
There are a few must-watch TV shows that we have all encountered in our lives.
The ones that we know pretty much every single word to and include at least one quote from in our day-to-day conversations.
And of those classic TV programmes (opens in new tab) none are more widely quoted than late 90's/early 00's iconic comedy Friends.
Throughout the show's run and even during the 14 years since it ended we were all emotionally invested in the turbulent and amusing lives of the six New York friends: Rachel, Ross, Monica, Chandler, Joey and Phoebe.
Chances are we've re-watched the whole episode run more times than we've had the doo-doo-doo-doo-doo-doo ditty of the Baby Shark stuck in our heads (sorry!).
But with all our repeated viewings most of us have failed to notice one massive glaring plot hole that just doesn't seem to make sense.
Now of course, the whole 10 seasons are riddled with obvious but glossed over plot holes that we all just try to ignore.
Like the fact that Rachel tells Gunther her birthday is in May, but later on Joey says she's an Aquarius, and let's not forget the two different instances when Chandler made a shocking declaration of love to Monica – did she just forget the first one?
But one eagle-eyed fan has now picked up on a rather odd detail when it comes to Rachel's pregnancy.
Now everyone knows that a full-term pregnancy (opens in new tab) is supposed to last around 40 weeks, or nine months, but according to this regular viewer, that wasn't the case with the show's mum-of-one.
The avid fan took to Reddit to reveal his findings, writing: 'During my rewatch I realized Monica and Chandler got married May 2001. Rachel knew she was pregnant a couple of days before the wedding. Emma was born May 2002.'
That's right. Rachel was pregnant for a whole year!
That sure does give a whole new meaning to 'The One Where Rachel Was Late'.
Aleesha Badkar is a lifestyle writer who specialises in health, beauty - and the royals. After completing her MA in Magazine Journalism at the City, the University of London in 2017, she interned at Women's Health, Stylist, and Harper's Bazaar, creating features and news pieces on health, beauty, and fitness, wellbeing, and food. She loves to practice what she preaches in her everyday life with copious amounts of herbal tea, Pilates, and hyaluronic acid.