Lyme disease can now be immediately diagnosed with this 'bull's-eye rash'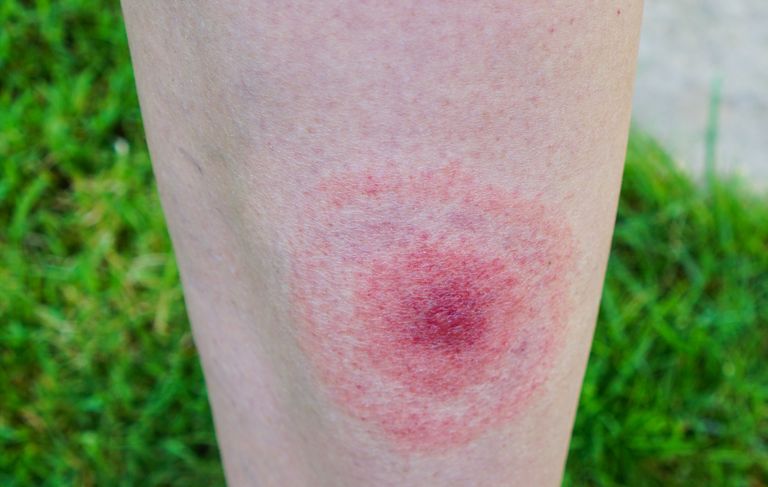 Breakthrough research could prevent delays in the detection of Lyme disease.
New research has found that if you have a bull's eye rash you should receive immediate treatment for Lyme disease, without having to wait for a blood test.
A scientific study was carried out by the National Institute for Health and Care Excellence (NICE) on the condition, which is a bacterial infection transmitted by ticks.
It was found that early tests might not detect the infection, and extensively waiting for test results could slow down treatment, therefore worsening the outcome.
Read more: What is Lyme disease? Lyme disease symptoms and treatment
NICE has stated that a bull's eye rash is present in approximately two thirds of cases, so if a rash is visible it would be well worth seeking treatment as quickly as possible.
Typical early treatment consists of a course of antibiotics which is generally effective in eradicating the disease altogether.
Professor Gillian Leng, director of health and social care at NICE, has stated: 'A person with Lyme disease may present with a wide range of symptoms, so we have clear advice for professionals about the use of lab tests for diagnosis and the most appropriate antibiotic treatments.'
'If a characteristic bull's eye rash is present, healthcare professionals should feel confident in diagnosing Lyme disease.'
This research has caused quite the stir, as the symptoms of Lyme disease can be very subtle, causing delays in treatment.
Read more: Mum urges people to wear shoes at the beach after her son contracts parasites on his feet
Chief executive of Caudwell LymeCo, a UK charity for patients with Lyme disease, Veronica Hughes, said in a statement: 'Waiting for blood test results always delays treatment.'
'When a patient has the rash, this delay is unnecessary and reduces the likelihood of total cure.'
If you think you might be fostering some of the symptoms of Lyme disease, then it's important to take action and seek treatment.
Typical Lyme disease symptoms include:
A red 'bull's eye' rash around a tick bite on your skin. This usually appears within the first four weeks or the bite, but can appear up to three months later
A high temperature
Feeling hot or shivery
Headaches
Muscle and joint pain
Tiredness and loss of energy
Niamh McCollum is a freelance lifestyle writer who has written for Future titles GoodTo and Marie Claire UK, plus the Irish Independent. The Dublin-based journalist specialises in stories
affecting families - from health updates, to the freshest parenting debates and celebrity announcements.