Simon Thomas reveals telltale sign wife had cancer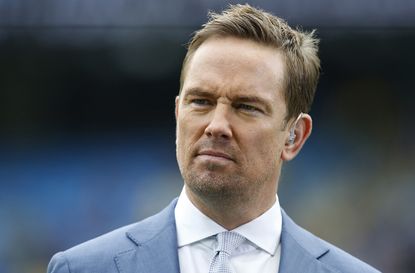 (Image credit: Getty)
Simon Thomas has revealed the telltale sign that his wife had cancer.
The Sky Sports presenter, whose wife passed away suddenly (opens in new tab) back in 2017 from cancer, has opened up about the signs that his wife was exhibiting before she died.
Appearing on This Morning earlier this week, the dad-of-one talked about how his late wife Gemma had been suffering from pretty common symptoms so they didn't realise the seriousness of her condition at the time, but said that the symptoms were 'so obvious when I look back'.
Getting emotional as he spoke, the TV presenter revealed that his wife, who died from blood cancer, had a 'big bruise on her thigh', which had been there for weeks.
More: Simon Thomas reveals he 'nearly ended it all' after his wife died
'I remember saying to her, 'where's that from?'. It came from a fall three weeks before when she'd broken her foot, but that bruise hadn't gone," he said. "This is one of the telltale signs that something could be wrong.'
In the lead up to her tragic passing after her short battle with acute myeloid leukaemia, the 40-year-old had been complaining of headaches for three weeks and had been to see her doctor several times.
After visiting A&E on a Monday and being diagnosed with the blood cancer later on that same day, the mum-of-one tragically passed away just a few days later on the Friday.
While there are different symptoms for different blood cancers, Thomas has said talked about how they are easy to miss because they can be mistaken for a host of other common illness.
According to charity Bloodwise, an organisation that funds research into blood cancers including leukaemia, lymphoma and myeloma, symptoms of blood cancer include:
Unexplained bruising or bleeding,
Unexplained weight loss,
Lumps or swellings,
Drenching night sweats,
Persistent, recurrent or severe infections,
Unexplained fever (38°C or above),
Unexplained rash or itchy skin,
Bone, joint or abdominal pain,
Tiredness that doesn't improve with rest or sleep,
Breathlessness,
Unusually pale complexion (pallor).
Aleesha Badkar is a lifestyle writer who specialises in health, beauty - and the royals. After completing her MA in Magazine Journalism at the City, the University of London in 2017, she interned at Women's Health, Stylist, and Harper's Bazaar, creating features and news pieces on health, beauty, and fitness, wellbeing, and food. She loves to practice what she preaches in her everyday life with copious amounts of herbal tea, Pilates, and hyaluronic acid.