Stacey Solomon horrifies Loose Women panel with shocking shower confession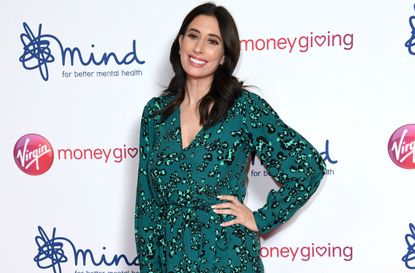 (Image credit: ©Karwai Tang)
Stacey Soloman left the Loose Women panel and viewers shocked after revealing she does not shower every day.
Loose Women panellist Stacey Solomon, who is expecting her first child with TV presenter Joe Swash, stunned viewers on Wednesday after admitting she is a 'soap dodger' and does not shower every day.
The 29-year-old mum-of-two confessed: 'I've always thought as long as you wash your important bits it's OK.'
'Like you can have a quick wash, sometimes I don't have time for a 15 minute shower.
'Also I don't think it's that good for your hair and skin and stuff.'
And, that's not all.
Fellow panellist Saira Khan too held her hands up, agreeing with Stacey admitting that she herself only showers once or twice a week.
She said: 'I support you on that Stacey as I've had dry skin most of my life and I know the water in this country is good quality but it is very – in a hard water area – it strips your skin of its essential oils.'
Though, Ruth Langsford was not impressed with the ladies bathing habits, quickly adding: 'That's what moisturiser is for. Body lotion.'
Stacey continued to defend herself : 'How dirty do you have to be? You'd have to not shower for days to smell bad.
'You can't every morning, if you miss the shower once or twice....'
Ruth then held up a bottle of clear liquid to reveal the amount of sweat people produce overnight.
But Stacey shocked the panellist again: 'Is it bad? Is that a bad thing?
'I don't see what the problem is though, what's wrong with a bit of sweat?'
Stacey, who has previously been accused of child abuse after posting a picture of herself in the bath with her two sons, admitted balancing motherhood and a career means she doesn't always have time to spare to shower daily.
She went on to reveal she was over the moon to have had the luxury of eight minutes of alone time in the bathroom on Monday – and even shared a toilet selfie to her 1.5m Instagram followers.
She captioned the selfie: 'Sometimes I like to just sit on the toilet for as long as I can before anyone notices.
'And For the second time today I've managed to get approximately 8 minutes each time before I've heard the distant shouts of Mum or Stace. I feel like I've won the lottery of alone time 😂.'
Sibelle Mehmet is a Junior Digital Writer at Goodto.com. She joined the team in April 2019 and was her first job since completing a MA in Magazine Journalism at City, the University of London in the summer of 2019. Sibelle previously interned at a number of national titles including OK!, Heat, Closer, Mother & Baby, and The Times Newspaper magazine. She's written extensively about the latest celebrity, showbiz, and royal news.