Guests left in stitches after this wedding menu blunder – but can you spot where the bride and groom went wrong?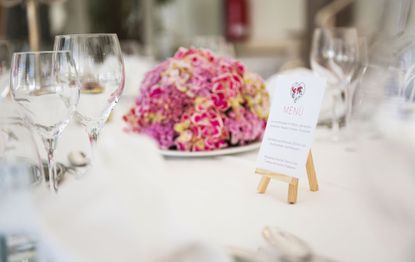 (Image credit: Getty)
GoodTo newsletter
Sign up to the GoodTo Newsletter. You can unsubscribe at any time. For more information about how to do this, and how we hold your data, please see our privacy policy
Thank you for signing up to . You will receive a verification email shortly.
There was a problem. Please refresh the page and try again.
As any married person will know, planning a wedding comes with a lot to think about.
So it can be easy to make a mistake or two in any area of the planning process.
A forgotten floral arrangement here, a missed place card there. And we've all forgotten to check the wedding day weather too. Easy to do when you have so many important bits and pieces to think about.
But one couple made such a glaring error on their wedding day that it was noticeable to all of their guests.
Even worse – it was in print so each guest has now got concrete evidence of the hilarious mistake.
Taking to Instagram, one of the guests of the bride and groom, named Theresa and Jason, shared an image of the order of service for the 'Unplugged Wedding'.
As the wedding ceremony started at 3pm in the afternoon, but dinner was not to be served until 5.30pm, Theresa and Jason didn't want their guests to go hungry.
To avoid any hunger pangs among their guests, who were asked to turn off their phones and cameras from 3pm for the 'Unplugged Wedding', the considerate bride and groom decided to serve nibbles at 3.30pm following the brief ceremony.
However, on the itinerary where the couple had obviously tried to print the title 'hors d'oeuvres', the term generally used by Americans when referring to nibbles and appetisers, there seemed to be a bit of an amusing mistake.
Rather than printing the heading that they had intended, the couple made a cringe worthy typo, instead writing: 'Horse Ovaries'.
The image, which was posted by one of the wedding attendees on the Instagram page Awkward Family Photos, was immediately flooded with comments making fun of the comedic oversight.
One wrote: 'Damn auto correct!!'
While other followed commenting: 'I can say we have never had those'; 'Holy moly! How did NO ONE catch this before printing!?' and 'Horse Ovaries – yum!'
One thing's for sure, there was one guest who definitely ignored the unplugged rule…